Fully licensed and bonded
When you jet off to Spain for a break with the family, friends or your partner, you're pretty much guaranteed sunshine, sangria and stunning sunsets. Whether you're an art lover, wine connoisseur, or a parent in search of a travel destination to suit both the kids and adults, consider booking a holiday to Alicante in 2018. Located in the province of Alicante, this picturesque port city is distinctive in appearance, with the colourful houses and vibrant old town creating a scenic setting.
Panoramic views of the Mediterranean coast can be admired from the medieval landmark of Castillo de Santa Bárbara, which is one of many time-worn landmarks dotted around the province. As if the plazas, parks and flawless boulevards aren't enough to tempt you into booking a holiday to Alicante, the fact that the island of Tabarca sits just off the coast sure will be. Originally named 'Lucentum' – or 'City of Light' – Alicante boasts modern conveniences and a historic quarter, so you really can get the best of both worlds when you jet off to this Costa Blanca paradise.
Most popular hotels in Alicante
Hotel Albahia Alicante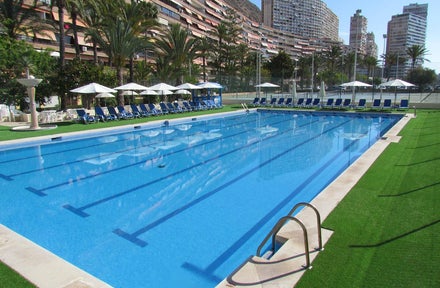 Hotel Albahia Alicante
Alicante, Costa Blanca
At a glance
Currency:
Language:
Time Zone:

GMT +

Average flight time:

2h 50m
When to go
(°C) Avg. High Temp
All hotels in Alicante
Not sure which Hotel to go to? Check out our top Alicante hotels:
3 Star Hotels in Alicante