Fully licensed and bonded
Alluring Altinkum
Featuring a stunning stretch of golden sand, turquoise waters and a bustling city centre, it's no wonder Altinkum in becoming a hot holiday destination.
Spend the morning delving into the local bazaar before cooling off down by the beach, when the sun goes down head to Dolphin Square where you'll find plenty of restaurants, bars and clubs to while away the evening. Whether you're looking for lazy beach days, or time spent seeking out the ancient ruin sites or a taste of Turkish culture, you'll find it all in Altinkum.
Most popular hotels in Altinkum
Didim Beach Resort Aqua And Elegance Thalasso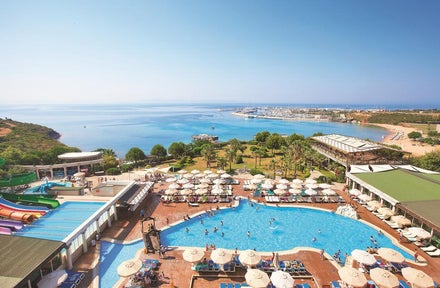 Didim Beach Resort Aqua And Elegance Thalasso
Altinkum, Aegean Coast
At a glance
Currency:
Language:
Time Zone:

GMT +

Average flight time:

4h 25m
When to go
(°C) Avg. High Temp
Things to do in Altinkum
Ideally located on the doorstep of a gorgeous beach, plenty of historic landmarks and a lively Turkish town centre, there's plenty to explore in Altinkum. Discover the astonishing ruins of Ephesus, visit the sacred village of Meryemana or venture further afield and soak up the charm of Izir. Whether you're travelling as a family, couple or group of friends, an Altinkum holiday will suit your needs.
Those who love delving into history will be enthralled with a chance to visit Meryemana, famously known as being the last home of the Virgin Mary. Surrounded by rolling hills of countryside and a charming traditional feel to the centre of town, it makes for a fabulous day trip. There's also a handful of ancient ruin sites scattered throughout the area, so enjoy seeking out the scenic highlights!
Izmir is also close by and gives you the opportunity to admire Turkish architecture at its best with the stunning array of mosques and churches. There's also a great market scene to enjoy in Kusadasi, so don't miss out on bartering for a bargain!
If you're travelling as a family, you won't want to miss out on a trip to Aqua Fantasy. Boasting a fantastic set of high speed water slides, lazy rivers and swimming pool playgrounds, kids will love this watery alternative to the beach.
Soak up Turkish culture
Altinkum itself is a fantastic town that offers a great mix of blissful beach days, fun-filled nights and a taste of Turkish culture. The evening bazaar is great to delve into when you're looking to bag a bargain while the friendly eateries are perfect for tucking into some authentic Turkish cuisine – enjoy sharing a mezze plate, try a Turkish kebab and top it all off with some gorgeously ripe fruit. When it comes to nightlife, you can't go wrong in Altinkum. Dolphin Square is the town's biggest hotspot where you'll find a bar or restaurant to suit your mood. However if you're looking for something more low key, seek out the local restaurants hidden in the back streets; you'll not only find top-notch food but also great prices.
Altinkum holidays - full of discovery
If you're looking to relax, Altinkum is the perfect place to be. Located along Turkey's south west coast, it enjoys a spectacular set of beaches that boast powdery sand, warm ocean waters and a vibrant marine life. With three beaches to choose from you can find everything you've ever wanted, from a fantastic array of water sports to lively beach promenades and hideaway coves. There are also plenty of ocean excursions on offer that include glass-bottom boat tours, snorkelling and scuba diving.
If you can manage to tear yourself away from the beach, you will find Altinkum is steeped in a rich history. In the neighbouring town of Didim lays a spectacular set of ancient ruins that were once known as the Temple of Apollo. There's also the Dalyan mud baths and thermal springs that have been used since Hellenistic times. If you jump aboard a boat tour you'll also be taken past the Lycian Tombs that are carved into the nearby cliff tops. You can also take a day trip to the wonderful ancient city of Ephesus where you can explore monument ruins, crumbling temples and a well-preserved amphitheatre.
Please note that Irish Passport holders arriving in Turkey from 10 April 2014 need to obtain an e-visa online before travel. You can apply for your e-visa on www.evisa.gov.tr
All hotels in Altinkum
Not sure which Hotel to go to? Check out our top Altinkum hotels:
5 Star Hotels in Altinkum