Fully licensed and bonded
Amazing Arguineguin Holidays
From humble beginnings as a quaint little fishing village to more modern developments as a thriving tourist destination, Arguineguin holidays have managed to hold onto its small-time traditions, with fishermen tending to their nets and restaurants serving the local produce at the island's largest market – Arguineguin is not to be missed. In the southern area of Gran Canaria, Arguineguin will locate you perfectly to enjoy the sunnier climes on gold-glittered beaches, while never being isolated from the rich array of activity which decorates the coastline. Only a few steps from the beach you will find a host of top quality restaurants serving Spain's famed tapas dishes, as well as the morning's catch of tantalising seafood from local bays.
Most popular hotels in Arguineguin
Marina Elite All Inclusive Resort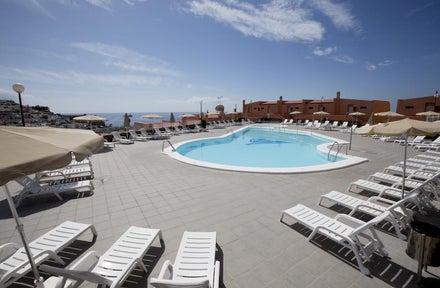 Marina Elite All Inclusive Resort
Arguineguin, Gran Canaria
At a glance
Currency:
Language:
Time Zone:

GMT +

Average flight time:

4h 30m
When to go
(°C) Avg. High Temp
Arguineguin Attractions
There are so many things to do and enjoy, we hope this short guide can give you some ideas for your next holidays.
Water Sports Galore
Whether you're looking for a slice of luxury, a budget hotel or all inclusive accommodation, Arguineguin hotels will situate you ideally among the plethora of attractions and activities that many come to Gran Canaria for. An assemblage of water sports provide the allure for this part of Gran Canaria, from exploring the colourful marine life with a scuba diving voyage to a glass-bottom boat tour if you'd rather keep from getting wet, holidays to Arguineguin will embellish your time away with action and adventure, no matter where you stay.
Explore the Region
If it's laying lazily on a beach somewhere in the peace and quiet, then nearby Amadores will be the perfect accompaniment to your relaxing respite away from the hustle and bustle of daily life, but if you've got the kids in tow make sure you head to Sioux City during your Arguineguin holidays, the wild west theme park is a hub of fun for the whole family to enjoy – Maspalomas housing the summer joy.
All hotels in Arguineguin
Not sure which Hotel to go to? Check out our top Arguineguin hotels:
3 Star Hotels in Arguineguin