Fully licensed and bonded
Relax and unwind in Arcos de la Frontera
Holidays to Arcos de la Frontera in Andalucia in southern Spain offers a tranquil retreat in a wonderful village atmosphere. One of Andalucia's most dramatically positioned pueblos blancos, the famous white villages of Andalucia, Arcos de la Frontera balances on a rocky ridge. Its whitewashed houses glistening in glorious sunshine spread along to the cliff's edge overlooking the exhilarating scene to the fertile valley of the river Guadalete below. Visitors awake to the sounds of church bells and birdsong. Arcos's population of twenty eight thousand is divided between the new town and the old town. The new town has developed on the lower slopes of the ridges below.
Most popular hotels in Armacao De Pera
Pestana Viking Beach & Spa Resort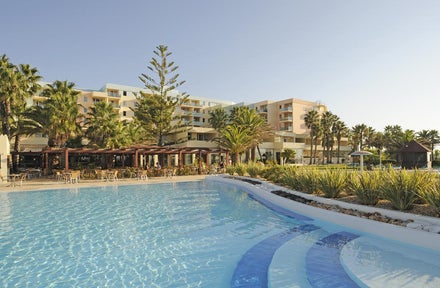 Pestana Viking Beach & Spa Resort
Armacao De Pera, Algarve
Vila Senhora Da Rocha
Vila Senhora Da Rocha
Armacao De Pera, Algarve
At a glance
Currency:
Language:
Time Zone:

GMT +

Average flight time:

2h 55m
When to go
(°C) Avg. High Temp
Arcos de la Frontera attractions
loveholidays.com has some useful tips on what to do and see on your holiday in Arcos De La Frontera if you're in need of some inspiration.
Explore Arcos de la Frontera
The old town of Arcos de la Frontera has been declared a national monument in recognition of its exceptional architecture and impressive location. Although its time under the Moors was one of its most successful, Arcos has had a long history of occupation its plentiful water and superb defensive hilltop location were the main attractions for settlers who also included the Romans and the Phoenicians. In the heart of old Arcos de la Frontera there are several tapas bars and fine restaurants. Check out the stunning stomach churning views from the southern side of the town. Guided tours in English of Arcos de la Frontera can be arranged at the tourist office in the town. Holidaymakers might like to hire a car and take in the beaches at Conil de la Frontera. The town of Cadiz is about an hour's drive and further afield the vibrant city of Seville is well worth a day trip. Below the town the Guadalete river valley is dotted with olive and orange groves.
The Lago de Arcos reservoir in the valley is great for swimming if you want to cool off on your holiday in Arcos de la Frontera. Bird watchers and nature lovers will also enjoy Lago de Arcos, it is a stop off point for migrating birds and perfect for walking and taking in the scenery. Head to the Arcos Gardens for a round of golf or a spot of horse riding with the family. Enjoy the relaxed nightlife in Arcos De La Frontera, with a good selection of tapas bars and charming restaurants for romantic moonlit dinner under the stars. The Meson El Patio offers an atmospheric cave-like bar near the Santa Maria church. If you fancy a taste of more formal fine dining then why not reserve a table at the 17th century palace El Convento, ideal if you are celebrating a special occasion or just feel like splashing out with that special someone. Join the locals and check out the tapas bars in the old town near Callejon de las Monjas. For a leisurely drink in a stylish venue then the terrace at the luxurious Parador on Plaza del Cabildo is the place to go.
At loveholidays.ie we don't offer standard Arcos de la Frontera holidays. Instead we offer the flexibility of a tailor made holiday guaranteed to suit your needs, tastes and budget. Book your cheap holiday to Arcos de la Frontera online anytime at loveholidays.ie.
All hotels in Armacao De Pera
Not sure which Hotel to go to? Check out our top Armacao De Pera hotels:
4 Star Hotels in Armacao De Pera
3 Star Hotels in Armacao De Pera