Fully licensed and bonded
Bansko Holidays
Tucked into the foothills of the Pirin Mountains in Bulgaria, the ski resort town of Bansko is charming and historic, set against a stunning alpine backdrop. Bansko's alpine skiing, hiking, and rock climbing opportunities are extensive, and its culture and history, stretching back to the 10th century, is rich and vibrant with traditional tavern-style cuisine and colourful folklore.
Looking for an alpine getaway with historical charm? Browse our fantastic selection of holidays in Bansko below or keep reading for more inspiration.
Most popular hotels in Bansko
Balkan Jewel Resort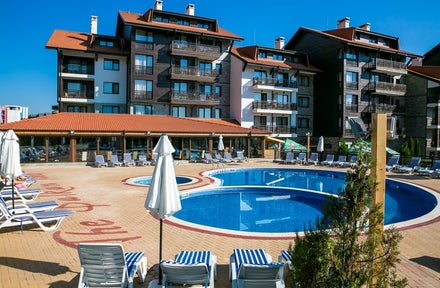 Balkan Jewel Resort
Bansko
Lion Bansko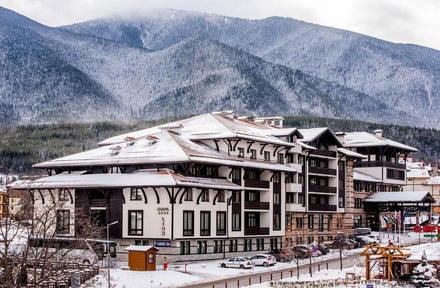 At a glance
Currency:
Language:
Time Zone:

GMT +

Average flight time:

3h 40m
When to go
(°C) Avg. High Temp
The holiday resort of Bansko is ideal for holidaymakers looking to combine a snowy getaway with history and culture. Bansko boasts traditional stone and wooden buildings and many relics and monuments of the past. The resort's main draw is its good skiing and snowboarding, but the area is also well known for its thermal hot springs, excellent swimming pools, Turkish baths and fitness rooms, which allow for a relaxing experience off the slopes.
When you're not testing out the snow, Bansko offers hundreds of taverns, serving up hearty traditional Bulgarian cuisine. The nightlife is not as wild as Bulgaria's other popular holiday resorts at Borovets and Pamporova. Bansko takes its tone from the quiet locals, who prefer to while away the evenings in the large selection of low-ceilinged taverns and pubs before a roaring fire.
While Bansko is renowned for its alpine skiing, the town is near the resort of Shiligarnika, which boasts some of Bulgaria's best downhill skiing. There are a number of sights in the area around Bansko that are well-worth a visit, including the historic Rila Monastary, the town of Melnik with its sandstone pyramids, Yagodinska Cave, and the Dancing Bears Rehabilitation Park.
If you're looking for a skiing getaway and an authentic Bulgarian experience, look no further than a holiday in Bansko. Let loveholidays.com help you find the perfect cheap holiday in Bansko today, and you'll be testing out the snow in no time!
All hotels in Bansko
Not sure which Hotel to go to? Check out our top Bansko hotels:
4 Star Hotels in Bansko