Fully licensed and bonded
Captivating Calpe Holidays
Old Valencia architecture with a fishing village allure that will keep even the well-travelled traveller entertained with culture and historical draw, Calpe holidays make for a relaxing and enjoyable break away, whether you want to immerse yourself within the attractive ambience of traditional Spain or use the resort as a base from which to explore the local area. In the vibrant heart of Costa Blanca you'll be treated to picturesque views of the enveloping sea, while being able to soak up the sun and catch that tan to make all of your friends back home jealous. If you fancy taking a break to enjoy some of the man-made scenery then there are a number of top attractions which will whet your appetite for Spain's stunning culture.
Most popular hotels in Calpe
Gran Hotel Sol y Mar . The Unusual Hotel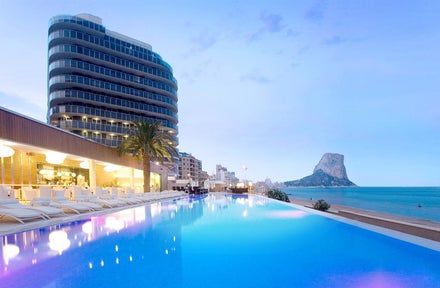 Gran Hotel Sol y Mar . The Unusual Hotel
Calpe, Costa Blanca
The
Costa Blanca
('White Coast') is famous for its beautiful beaches of white sand, but also boasts some very pretty little coves and bays that are less well known. We've picked out our favourites along this fabulous coastline in this list of the top 10 beaches on the Costa ...
At a glance
Currency:
Language:
Time Zone:

GMT +

Average flight time:

2h 45m
When to go
(°C) Avg. High Temp
Things to do in Calpe
Gleaming amidst a blend of old and new, you'll find yourself among lively things to do in Calpe that will interest a variety of tastes. Head to the ancient quarter and the Moorish quarter to spy some ancient architecture, such as the Iglesia Vieja church and the ruins of the Moorish Castle of Calpe. Visit the town's Archaeology Museum and Casa de la Senyoreta Museum to uncover some history of Calpe. Some intriguing exhibitions await at the Comic Museum and the Fiesta Museum. The town's beaches don't only provide the perfect place for sunbathing, but they offer a variety of watery activities for those who want to delve into the Mediterranean, from wind surfing and water skiing, to yachting and boat rides. If you've still got energy to burn after some water sports you can head to the Rock of Ifach, which provides the ideal setting for some adrenaline fuelled rock climbing. The rock is also a nature reserve, and has a tunnel buried inside it for those who dare climb to the top.
Traditional Seaside Cuisine
Situating yourself in one of the many delightful hotels that are seemingly ever-present within Calpe will keep you close-by to all of the alluring activities and attractions, while also giving you a taste of the local delicacies including shellfish and other marine wildlife. Along the promenade you will even find a Roman salting factory which would have been used to preserve the catch of the day before transporting the fishy food to local markets and towns, holidays to Calpe never having let go of their fishing traditions.
Natural Beauty
Deep in the province of Alicante you will be perfectly located to take in some of the resplendent natural beauty which decorates the coastline; the Penon de Ifach being a majestic rock stealing the skyline – an inspiration to many who wish to venture to this part of the world, while golden beaches and sun-splashed shores are always a welcome respite from the hustle and bustle of everyday life. Calpe holidays will also be the ideal base from which to explore the intriguing captivations of Costa Blanca, Santa Pola being a diving destination you simply have to visit if you want to discover what lies beneath the surface.
All hotels in Calpe
Not sure which Hotel to go to? Check out our top Calpe hotels:
4 Star Hotels in Calpe