Fully licensed and bonded
Charming C'an Picafort
With its labyrinth of ancient streets and sprawling whitewashed beaches, holidays to C'an Picafort reveal a glimpse of paradise with an effortless dose of laid-back charm.
Situated on the coast of Majorca, this beach resort is the ideal spot for those seeking an escape from the hustle and bustle of daily life as well as an alternative to some of Spain's livelier resorts. Perfect for a quiet family break or a romantic getaway, C'an Picafort holidays blend that perfect concoction of sand, sea and sunshine that make up an idyllic beach break.
Most popular hotels in Ca'n Picafort
Zafiro Mallorca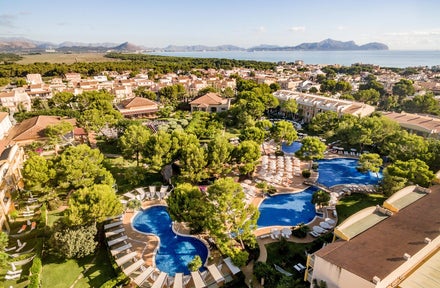 Zafiro Mallorca
Ca'n Picafort, Majorca
At a glance
Currency:
Language:
Time Zone:

GMT +

Average flight time:

2h 45m
When to go
(°C) Avg. High Temp
C'an Picafort attractions
Famous for its sandy beaches and family friendly atmosphere, holidays in C'an Picafort are a popular choice for young and old alike. To find out more about this fantastic destination and to help you plan your next holiday, check out our list of the top things to do in C'an Picafort.
Sea Views
Located alongside the stunning resort of Alcudia, C'an Picafort has long been thought of as one of the most picturesque locations in the Balearic Islands, and you'll find your holidays in C'an Picafort are perfect for exploring the surrounding areas on foot. Venture a little out of the town and you'll come across the oyster-shaped bay of Puerto Pollensa, a quiet resort with a quaint marina. While the sheltered beach is the ideal spot for little ones to splash around in, the area also boasts a weekly market every Wednesday – perfect if you're looking to immerse yourself in something livelier.
If you've packed your dancing shoes and fully intend on putting them to good use, Palma City is the place to aim for when the sun goes down. The town holds regular events and festivals for those seeking a fiesta, as well as numerous nightclubs and bars that will keep you entertained until morning arrives.
All hotels in Ca'n Picafort
Not sure which Hotel to go to? Check out our top Ca'n Picafort hotels:
4 Star Hotels in Ca'n Picafort