Fully licensed and bonded
Dazzling Dalmatia
With ocean depths of the purest turquoise, golden stretches of powdery sand and a mountainous backdrop adding a touch of drama, there really is nowhere else quite like the Dalmatian Coast. The region's distinct Mediterranean climate and olive grove filled hills make for an irresistibly tranquil atmosphere, while its collection of vibrant, colourful towns and charmingly traditional villages offer endless opportunities for exploration.
Sweeping along Croatia's gorgeous shoreline, Dalmatian Coast holidays are wonderfully diverse. Spend the morning soaking up the Croatian charm in one of the historical towns before heading down to the beach to relax in the sun. When night falls the region comes alive with an array of top-notch restaurants, trendy bars and clubs, giving you the choice to enjoy the evening at your own pace.
Top resorts in Central Dalmatia
Most popular hotels in Central Dalmatia
Holiday Village Sagitta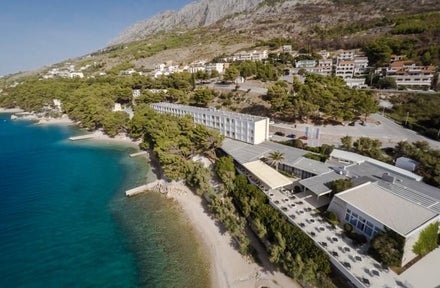 Holiday Village Sagitta
Omis, Central Dalmatia
At a glance
Currency:
Language:
Time Zone:

GMT +

Average flight time:

3h 10m
When to go
(°C) Avg. High Temp
Things to Do in the Dalmatian Coast
If you manage to tear yourself away from the glorious beaches, there is an array of things to do on the Dalmatian Coast. The gorgeous, diverse landscape allows plenty of adventure, with numerous hiking, trekking and biking routes snaking along the coast and along the mountain peaks. If you're looking for something that's a little more laid-back, the stunning greenery, wooded hills and fresh water cascades of the Plitvice Lakes National Park provide a slice of Dalmatian beauty and serenity.
Fans of history and culture will delight in the coast's endless array of period architecture and ruins, but none will impress like the Cathedral of St James. Located in Sibenik, this breathtaking basilica is a UNESCO World Heritage site, and unequalled display of architectural prowess that will astound even the most experienced traveller.
With such an abundant shoreline, it is impossible to visit the Dalmatian Coast without being tempted into the sea for some water sport action. The Kornati Islands, just off the northern reaches of the Dalmatian Coast comprise an incredible marine park and underwater coves, perfect for snorkelling, diving and all manner of underwater exploration!
Coastal Hideaways
With its wealth of charmingly traditional towns and villages and luxurious beachside resorts, finding somewhere to call home on holidays in the Dalmatian Coast could not be easier. The charming village of Baska Voda is a great place for families to stay as it's popular for its Blue Flag beaches, array of watersports options.
Nature lovers should opt to stay in one of the beautifully traditional towns nestled amongst the lush greenery of the Makarska Riviera. Both the towns of Gradac and Zivogosce provide all the stunning beaches, hiking trails and authentic charm you could ever need, while the olive groves and palm tree lined beaches of Podgora exude a truly Mediterranean flavour.
Culture vultures visiting the Dalmatian Coast delight in the rich, historical significance of Brela, a small town in the foothills of the Biokovo Mountains. Those looking for the Dalmatian city experience should head for Makarska, a vibrant city lined with pebbly beaches, or Split, one of Croatia's most popular destinations.
The Dramatic Adriatic
Unsurprisingly, the alluring glittering beaches of the Dalmatian Coast are the main attraction for the region's visitors. With endless stretches of powdery, golden sand to relax upon, the azure Adriatic Sea to dive into, and a wealth of water sports and boat tours on offer, Dalmatian Coast holidays are invariably characterised by its beachside pursuits.
However, there is much to discover along this visually impressive coast that involves no sea or sand. The liberal sprinkling of well-preserved Roman ruins and beautiful ornate churches can be found in and around many of the region's towns and cities, while the siege-scarred wall surrounding Split is a historical attraction not to be missed. Wander the labyrinth of charming cobbled streets, sip a Croatian coffee on a sun-kissed terrace and uncover historical and architectural wonders around every corner.
Top Central Dalmatia Destinations
Check out some of our most popular cheap holiday destinations in Central Dalmatia