Fully licensed and bonded
Introducing Corfu Holidays
Tucked away amidst the shimmering Ionian Sea, a Corfu holiday for 2019 / 2020 will be chock full of cypress trees, olive groves, dramatic coastlines, and rustic stone buildings; finished with a deep blue sky. Due to its rolling green hills and abundance of olive patches, Corfu has the curious nickname 'the Emerald Isle' (which it shares with the island of Ireland, our neighbours will be tickled to discover). But what really gives this idyllic island an air of mystery is not just its spellbinding scenery or laid back way of life, but its intricate roots with classical Greece. For millennia, Corfu has been famed for its culture, art and education; qualities which can still be seen today in both the ancient architecture and sophisticated lifestyles of the locals. Like many other islands in the Mediterranean and elsewhere, watersports, sailing and other seaside activities are among some of the top pastimes in Corfu. A veritable paradise island, Corfu has its very own sea school offering sailing lessons for all skill levels and motorboats for hire, should you fancy a day trip out on the gentle waves or open sea. Also available are cruises around the neighbouring islands and beyond the dramatic cliffs and coves of the coastline are also popular daytime excursions during down time. If topping up your tan is imperative on this trip, Corfu also has around 57 glittering beaches to relax on when you want to get back on dry land.
Most popular Corfu hotels
Quayside Village Hotel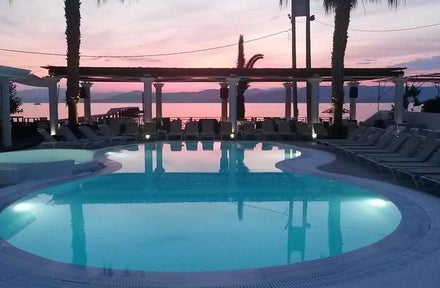 Quayside Village Hotel
Kavos, Corfu
Ionian Sea View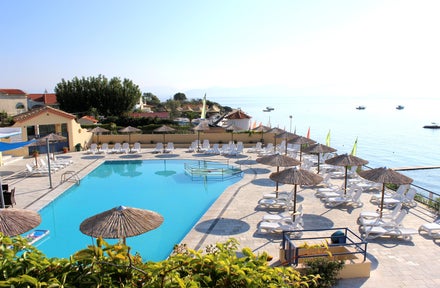 Ionian Sea View
Kavos, Corfu
The Greek Islands
are known to have it all. Pleasant weather, great beaches and fantastic historical sites. The truth is, there really is something for everyone to enjoy. Making the Greek Islands one of the best destinations for every type of holidaymaker. Whether you're travelling as a couple, family ...
The Greek Islands are known for their fascinating ancient Greek sites, wonderful crystal-clear beaches and of course their delicious cuisine. A holiday to the
Greek Islands
doesn't disappoint when it comes to food. So, you're in for a treat on a trip to Corfu. The Greek are big ...
At a glance
Currency:
Language:
Time Zone:

GMT +

Average flight time:

3h 45m
A
Greek Islands holiday
is perhaps one of the most romantic you can go on. Making it one of the top destinations for a
couples holiday
. The island of Corfu is absolutely perfect for this. A fantastic Mediterranean climate, wonderful beaches and great sights make it a go-to destination. So ...
Whether you're travelling with tots or teens, we've got the perfect holiday destination for you and your family! We've rounded up the top 10 family-friendly resorts in Europe, whether you're looking for a laid-back beach holiday, somewhere with enough action to keep the teens happy, or ...
When to go
(°C) Avg. High Temp
Top Corfu Destinations
Check out some of our most popular cheap holiday destinations in Corfu