Finata Studios
Kavos Corfu, Greece, 49080, Kavos, Corfu, Greek Islands
45.6km to Corfu Airport (CFU)

Beachfront location

200m to town centre
Low Deposit Options Available

Interest FREE Payment Plans
Finata Studios in Kavos spread over 1 floors and distributed across 2 buildings. The sandy beach is 200 m from the hotel and the town of Kavos is 100 m away. To make y... ... Continue reading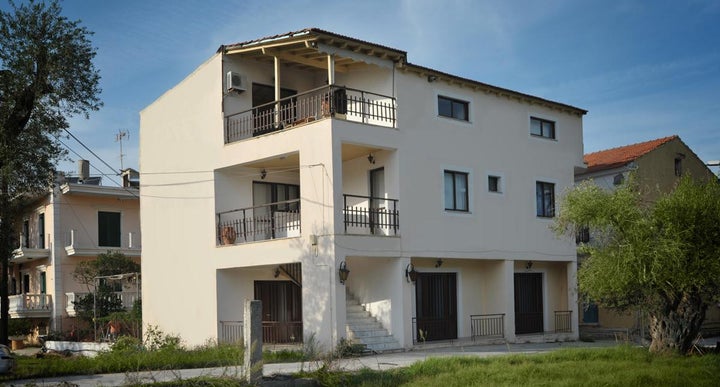 Finata Studios in Kavos spread over 1 floors and distributed across 2 buildings. The sandy beach is 200 m from the hotel and the town of Kavos is 100 m away. To make your stay more comfortable air conditioning is available. The staff in this 1 storey hotel speaks English. Sunshades and sunbeds are available for an additional fee at the beach. The hotel is within easy reach of taxi stands, disco, supermarkets, tourist information, city centre, bars and restaurants and bus stops. Accessible from the hotel: airport CFU (42 km). This is an adults only hotel (16+).
*Finata Studios is an affiliate property to Island Beach Resort complex. Is an Adult only property. Check in & check out by reception in the main building of Island Beach Resort. Safes available at the reception with charge paid locally. Cleaning & towels 2x weekly. Optional Breakfast & Dinner are also bookable, served at the main restaurant of Island Beach Resort, aprox. 150 m from Finata Studios. Every guest is provided with a wristband giving access to the Island Beach Resort facilities, pools, shops and bars as well as tickets for SANDSTORM and daily pool parties included with no extra cost to pay. Also all wristband holders can take advantage of all offers and discounted prices in all authorized Island Town members.
Facilities
Reception hours: 24h Service.
Food and Drink
The breakfast type is Continental.
Other Information
City /Tourist tax is payable locally.
Points of interest
Corfu Airport - 1 hours 10 minutes
To make booking a holiday at Finata Studios in Kavos easier for you, we provide a range of different payment options. To find out if you can book Finata Studios with a low deposit holiday option, please click the "Price and Availability" button above.
Hotel address : Kavos Corfu, Greece, Kavos, Corfu, Greek Islands, 49080
Please wait while we load the map for Finata Studios
Questions and Answers about Finata Studios
If you can't find what you're looking for or if you have a question about this specific hotel, please get in touch via the Add a Question button below. Our knowledgeable team will aim to respond to your question within 72 hours. In the meantime, previously asked questions can be found below and answers to some of the most commonly asked questions can be found on our FAQs page.