Summertime Village
Peroulades, 49081, Sidari, Corfu, Greek Islands
Next to the beach

Freshwater pool

Kids facilities
Tranquil area

Low Deposit Options Available

Interest FREE Payment Plans
Splendidly situated in a tranquil area in the resort of Sidari, the 3 star Summertime Village Apartments are ideal for both families and couples after a relaxing holid... ... Continue reading
'Room needs to be improved. Pool should be renewed.'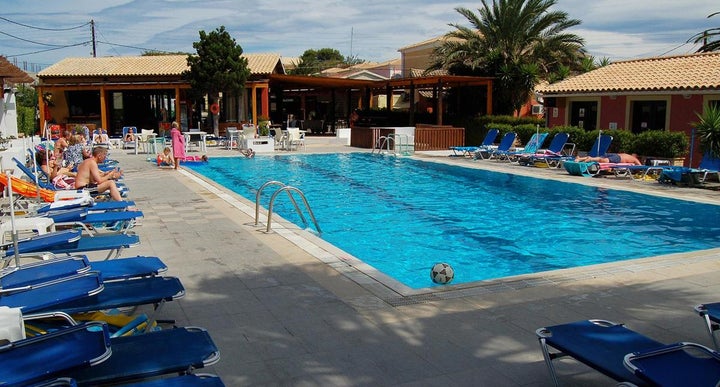 Splendidly situated in a tranquil area in the resort of Sidari, the 3 star Summertime Village Apartments are ideal for both families and couples after a relaxing holiday in Corfu. With spacious rooms, convenient location and a range of family-friendly facilities, you are bound to have a comfortable stay here.
An affordable option for your stay in Sidari, the Summertime Village Apartments offer all the amenities for a pleasant holiday. A freshwater outdoor pool surrounded by a sun terrace is perfect for long days of lounging around, soaking up the sunrays and working on that all important tan, while the nearby pristine beaches are even better when you want to relax under the sun! In the meantime, there is also a separate children's pool and a playground for the little ones so that kids will be well entertained during their time here.
Fully relax in the natural surroundings consisting of lush gardens and a river running through the property: a truly serene atmosphere that is bound to help you recharge your batteries. When you want to be a bit more active you can play tennis onsite or head to the nearby beach and explore the shallow waters.
Back onsite there is a restaurant, snack bar, a gardern-pool bar and clubhouse where daily entertainment is provided (there are billiards and nightly movies here). However, thanks to the hotel's convenient location there is a selection of bars and restaurants close by, too.
The Summertime Village Apartments are great if you are after some peaceful relaxation in gorgeous Corfu. Surrounded by pristine beaches and gorgeous nature, the Apartments are ideal for both families and couples, so book now and get ready for a truly serene beach holiday!
Facilities
For convenience the hotel offers laundry service, a safe, ironing service, currency exchange and wake-up service. This family friendly hotel offers a children's pool to ensure a comfortable stay for parents as well as young guests. Reception hours: 08:30 - 00:00.
Sports and leisure
Billiards/Snooker
Children's Pool
Golf
Gym
Minigolf
Outdoor Pool(s)
Parasols
Pool bar
Sauna
Sun loungers
Sun terrace
Swimming Pool
Table Tennis
Tennis
Activities
Activities such as billiards and table tennis are offered at the hotel. Guests who wish to be active on holiday can enjoy activities such as tennis.
Food and Drink
The breakfast type is Continental and it is provided from 08:00 - 10:00. The hotel has one restaurant.
Other Information
Payment facilities include Euro/Master Card, Visa Card and American Express. Additional fees may apply for certain facilities, amenities or activities. City /Tourist tax is payable locally.
Entertainment
All Inclusive accommodation
Clubhouse (with billiards, nightly movies, entertainment)
Fresh water swimming pool
Gardern-pool bar* Restaurant
Snack bar
Sun terrace with sun beds and umbrellas
Tennis
For children:
Children's pool
Playground
Points of interest
Corfu Airport - 1 hours 10 minutes
To make booking a holiday at Summertime Village in Sidari easier for you, we provide a range of different payment options. To find out if you can book Summertime Village with a low deposit holiday option, please click the "Price and Availability" button above.
Hotel address : Peroulades, Sidari, Corfu, Greek Islands, 49081
Please wait while we load the map for Summertime Village
Questions and Answers about Summertime Village
If you can't find what you're looking for or if you have a question about this specific hotel, please get in touch via the Add a Question button below. Our knowledgeable team will aim to respond to your question within 72 hours. In the meantime, previously asked questions can be found below and answers to some of the most commonly asked questions can be found on our FAQs page.