Fully licensed and bonded
While most people's minds will immediately spring to theme parks and Disney when they think of the Sunshine State, a holiday to Florida in 2019 / 2020 can be as jam-packed or low key as you want, with plenty to suit all needs. Seek out the gorgeous Florida sun and head to a city like Tampa or Miami, for a diverse melting pot of cultural influences, and an assemblage of sights and sounds. If getting down and dirty among the picturesque Florida Keys is more your scene, then an action-packed adventure awaits. With the Everglade Forests and swamps bursting at the seams with all kinds of flora and fauna, it's a place like no other. Make sure to look out for one the most famous Florida natives, the American alligator!
Without a doubt, a trip to Florida wouldn't be complete without taking in some of the theme parks and attractions, suitable for kids and bigger kids alike. Get enchanted by the magical kingdom of Disney, or relive the movies of your childhood with an incredible trip to Universal Studios.
Most popular hotels in Florida
Avanti Palms Resort and Conference Center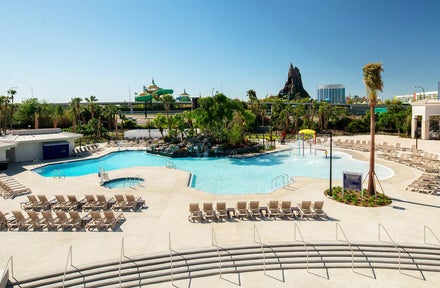 Avanti Palms Resort and Conference Center
Orlando, Florida
On January 24, people across the globe checked their watches at 1.24pm, and then began to smile, cackle, chortle and chuckle. Missed it? So did I. But the event, which was
Global Belly Laugh Day
, did get me thinking about the different things that make us laugh and smile ...
I always pack something good to read on holiday. Of course, I have a trashy page-turner that will see me through the flight and give me some cover while I snooze beside the pool. But I also like to bring a book as a personal guide. And I'm not ...
At a glance
Currency:
Language:
Time Zone:

GMT +

Average flight time:

11h 28m
It pays to be aware of foreign customs when you go abroad but here are some truly odd illegalities to look out for at Cosmos destinations around the globe!
Home to the Walt Disney World Resort, Universal Studios and some legendary beaches, Florida is top of the list for family-friendly fun in the sun. But the Sunshine State isn't all theme parks and swimming. With some of the biggest designer outlets on the continent – and more malls than ...
When to go
(°C) Avg. High Temp
Top Florida Destinations
Check out some of our most popular cheap holiday destinations in Florida