Fully licensed and bonded
Gorgeous Garda
Famed for its beautiful surroundings, this main resort is ideal for those looking to escape the hustle and bustle of Italy's livelier destinations. Found in the vicinity of the iconic Lake Garda, there's plenty of lakes and mountain scenery to enjoy on your Garda holidays. This old fishing village has particularly picturesque surroundings too – everything from charming vineyards to olive groves and cypress trees. Whether you're seeking an adventure-filled getaway, a laid-back retreat or a cultural trip to one of the nearby towns – from Arco to Gavardo, you're sure to find something to suit you. With boats bobbing along the shoreline and blissfully sand-swept coastlines to explore, holidays to Garda truly give you a glimpse at paradise.
Most popular hotels in Garda
Poiano Resort Apartments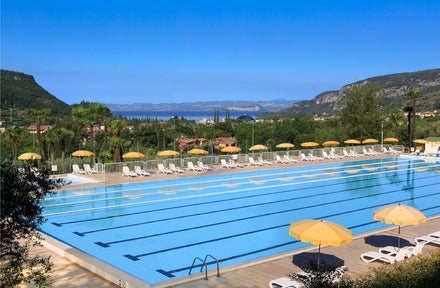 Poiano Resort Apartments
Garda, Lake Garda
At a glance
Currency:
Language:
Time Zone:

GMT +

Average flight time:

2h 30m
When to go
(°C) Avg. High Temp
Charm and beauty
The main attraction of holidays in Garda is the lake itself, where you'll encounter plenty of activities – from water sports to hiking and biking. If you're keen to don your walking boots and take a stroll, there is a route along the lakeside to Bardolino, a charming town well worth exploring. Alternatively, head to Salo on the West Bank and peruse its pretty promenade at your leisure. While the lakeside is appealing in itself, you'll find a wide array of shops, restaurants and bars tucked away in the hills of Garda. From chic boutiques to thriving independent stores, you'll find numerous places to spend your money as well as pick up lots of souvenirs for your journey home – keep your eye out for top quality leather goods for great prices. The fun doesn't stop when the sun begins to fade and you'll uncover many excellent restaurants serving up mouth-watering Italian cuisine. Of course, if you're looking to sample some of Italy's famous Limoncello then you should take a trip to Limone – not only a great base to explore more of the lake, it also boasts great views and quaint lemon trees.
All hotels in Garda
Not sure which Hotel to go to? Check out our top Garda hotels:
4 Star Hotels in Garda