Fully licensed and bonded
Located in Northern Italy between Venice and Milan, Garda - the largest lake in Italy - is a holiday destination known to delight travellers from all over. Those wanting to experience Italy's natural beauty in a picturesque, luxurious area, while still having the conveniently furnishings and amenities of a typical tourist resort will be more than happy here.
With a rare combination of breathtaking mountain ranges, gorgeous lake vistas and a plethora of top-notch restaurants, Lake Garda holidays are a wonderfully charming place to kick back and relax. From the vibrant lemon groves to the lush green hilltops, there is a scenic delight waiting at every turn. The life here moves leisurely, with the saying 'dolce far niente' – the sweet idleness of life – being the local's motto. The most you'll need to worry about are cable cars and ferry timetables!
Tourists spending their 2019 / 2020 holidays near Lake Garda will find it conveniently well-connected to Italy's main cities. But there's no need to travel far for a chance to take in the beauty of medieval towns, historical sites, and natural attractions. Towns like Sirmione, once the residence of the Roman poet Catullus, offer views of architectural and historical interest, like the Scaglier Castle and natural beauties like the Grotte di Catullo, alongside the modern comforts of restaurants, hotels, markets, boutiques, and fashion stores.
And for a day of children-friendly fun and adventure, you'll only have to go as far as Gardaland, Italy's most famous theme park!
Top resorts in Lake Garda
Most popular hotels in Lake Garda
La Limonaia Residence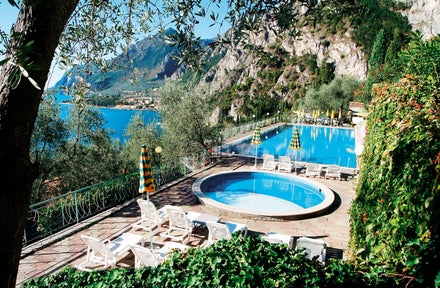 La Limonaia Residence
Limone sul Garda, Lake Garda
Poiano Resort Apartments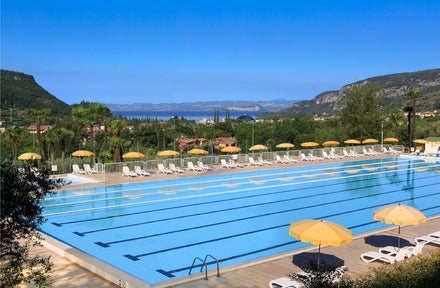 Poiano Resort Apartments
Garda, Lake Garda
If you're looking for somewhere different for your 2017/2018 ski holiday, then we've got the perfect ski destination for you. If you want to mix some winter sun with your skiing, why not head to the
Sierra Nevada
in southern
Spain
or
Tenerife
in the Canary Islands ...
At a glance
Currency:
Language:
Time Zone:

GMT +

Average flight time:

2h 30m
When to go
(°C) Avg. High Temp
Top Lake Garda Destinations
Check out some of our most popular cheap holiday destinations in Lake Garda