Fully licensed and bonded
Discover Holidays to Lambi
If you're looking to sit back, relax and soak up the sunshine then holidays to Lambi are the ideal choice for you. A small and peaceful destination on the Greek island of Kos, Lambi and its surrounding areas have amazing things to offer you, whether you're with friends, family or that special someone. In just 5 hours you could be lapping up the sunshine.
Most popular hotels in Lambi
Atlantis Hotel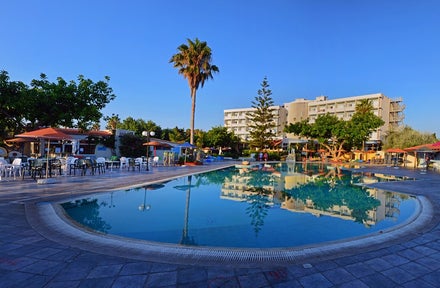 Atlantis Hotel
Lambi, Kos
At a glance
Currency:
Language:
Time Zone:

GMT +

Average flight time:

8h 55m
When to go
(°C) Avg. High Temp
Beaches
Beaches
Lambi beach is a popular choice with those on holiday in Kos. The golden beach stretches for a distance of more than one km. Lambi beach is a favourite with families due to its soft sand and gentle sea, so it's safe for families on holiday with youngsters.
Things to do
Lambi is well known for is beautiful white sandy beaches and turquoise ocean. These are all well equipped with sun beds and umbrellas as well as a wide range of water sports to get your heart racing. Why not try jet-skiing or paragliding? To escape the blazing sunshine cool off with a smoothie at one of the waterfront cafes.
Don't miss a chance to experience some of the amazing history of this beautiful area. There's the beautiful ancient Acropolis, alter of Dionysius and Temple of Amigdalano. If you can't resist a bit of shopping, visit some of the great little markets where you can pick up some souvenirs. Head to Kos Town for more choice and a selection of unique boutiques. Explore the local area on a relaxing walk or for a fun family day out visit the islands water park with its exciting slides and swimming pools.
The restaurants dotted along the water front sell a mix of great traditional cuisine as well as international foods to suit all tastes. Holidays to Lambi are not known for their vibrant nightlife. The area has a few local bar and taverns which are great for families but head to Kos town just a few miles away to find the buzz of a vibrant town.
Find cheap holidays today
For anyone looking for the perfect tailor made holiday at the best prices then loveholidays is the perfect place to find it. We've got the best deal on hotels and flights to make sure your idyllic holidays are exactly the way you want them.
All hotels in Lambi
Not sure which Hotel to go to? Check out our top Lambi hotels:
4 Star Hotels in Lambi