Los Pueblos Apartments
Calle Testeyna, 3, 35510, Puerto del Carmen, Lanzarote, Canary Islands
Outdoor Pool

Near the beach

Children's pool
Family rooms

Low Deposit Options Available

Interest FREE Payment Plans
The two-star Los Pueblos Apartments provide great value, fuss-free accommodation in an ideal location. This apartment complex features 89 sea view rooms that are sprea... ... Continue reading
'Good for sightseeing and has nearby restaurants and bars. Room needs to be improved. Vibe is not too good.'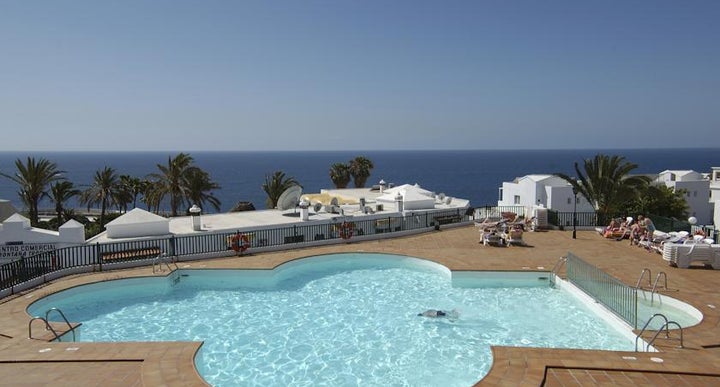 The two-star Los Pueblos Apartments provide great value, fuss-free accommodation in an ideal location. This apartment complex features 89 sea view rooms that are spread across 4 floors, offering a good amount of space and privacy. Set in a stunning scenic location, the complex is the ideal place to get away from it all and enjoy some rest and relaxation.
Rooms are simple and neat, coming fully equipped with a lounge area, separate bedroom, bathroom with shower, kitchenette (complete with a hob, fridge and cooking utensils), radio, direct dial telephone and a private balcony or terrace. WiFi is available at reasonable prices, so you can keep up with all the news at home from the comfort of your hotel. Outside, the hotel has an outdoor pool, garden and sun terrace, ideal for getting some sun and enjoying a chilled beer by the pool.
If you're after a more active day, the hotel also offers billiards, diving, fishing and a golf course only 3km away. The key selling point of this hotel is its location, making it the perfect starting point for venturing out into the nearby old town and exploring some of Lanzarote's oldest harbours.
With great public transport links only 100 metres from the hotel, this is a fantastic place to stay if you're keen to get out and explore the local area. Whatever your tastes, there is a wide selection of bars and restaurants in a huge variety of cuisines including English, Spanish, Scandinavian, Chinese and Indian, to name a few.
Whether you're on a romantic getaway with your significant other or enjoying summer holidays with the family, the hotel is only a short journey away from numerous theme parks, water parks, places to take part in water sports and fabulous shopping locations.
Facilities
Garden
Terrace
Wired internet in public areas at a cost of €3 per 30 minutes
Pool and wellness
Outdoor pool
Solarium
Swimming pool
Sports and leisure
Billiards/Snooker
Children's Pool
Golf
Outdoor Pool(s)
Parasols
Pool bar
Sun loungers
Sun terrace
Swimming Pool
Tanning Studio/Solarium
Tennis
Entertainment
The on-site restaurant offers a varied and wide selection of local and International dishes. There is a pool bar/cafe that is open every day from 8am until midnight that offer snacks, basket meals and beverages. Every Wednesday evening there is a bbq night, as well as other special evening event nights.
Every Wednesday evening there is a bbq night (subject to change)
Activities
Billiards
Diving
Fishing
Golf course (within 3 km)
Other Information
The attractive old town is just 500 metres from the complex and the sandy beach is 1 km away. The old town is home to one of the island's oldest harbours and is a great place to take in the traditional charm. Public transport can be found just 100 metres away that allows easy access to the surrounding areas and the ideal opportunity to explore. There is an excellent choice of bars and restaurants, both English and Spanish, as well as Scandinavian, Chinese, Indian and other International eateries. There are theme parks, water parks, water sports on the beach and plenty of shopping opportunities……something for all the family.
24 hour reception, currency exchange, hotel safe, furnished sun terrace and elevator/lifts.
Other facilities
Garden
Outdoor pool
Terrace
Room facilities
Room description: All apartments in Los Pueblos are fully equipped with lounge area, separate bedroom, bathroom with shower, kitchenette (fridge, hob, cooking utensils), radio, direct dial telephone and a balcony or terrace.
Points of interest
Bars - 200m
Beach/Sea - 500m
Golf Course - 16km
Lanzarote Airport - 15 minutes
Public Transport - 100m
Resort Centre - 200m
Restaurants - 200m
Shops - 300m
To make booking a holiday at Los Pueblos Apartments in Puerto del Carmen easier for you, we provide a range of different payment options. To find out if you can book Los Pueblos Apartments with a low deposit holiday option, please click the "Price and Availability" button above.
Hotel address : Calle Testeyna, 3, Puerto del Carmen, Lanzarote, Canary Islands, 35510
Please wait while we load the map for Los Pueblos Apartments
Questions and Answers about Los Pueblos Apartments
If you can't find what you're looking for or if you have a question about this specific hotel, please get in touch via the Add a Question button below. Our knowledgeable team will aim to respond to your question within 72 hours. In the meantime, previously asked questions can be found below and answers to some of the most commonly asked questions can be found on our FAQs page.
Is wifi available in rooms if so what cost? Also are travel cots available and what cost? (For a week)
2 Answers
Hello, Cots are available on request. If you can let us know your booking reference we can add a request to your booking for you. Wifi is available in the rooms for a surcharge. Unfortunately we do not have the cost of the wifi. Regards
Added 2 weeks, 1 day ago.
By Leanne, loveholidays.com team member
Hi, we can request a cot for you but due to availability we can't always guarantee them so we advise for you to take your own travel cot. Wi-Fi is available in the rooms at a charge but we do not have the cost for this as it is paid locally. If you email the hotel they will be able to give you the cost. Regards
Added 2 weeks ago.
By Jon, loveholidays.com team member
Do all the rooms have a TV and also is it free or is ther an extra charge? Many thanks
1 Answer
HI Heidi
The Los Pueblos website states there are TVs for rent in the apartments
Regards
Added 1 year, 12 months ago.
By Karen.Blackburn, loveholidays.com team member
Do the apartments have air conditioning?
1 Answer
Hello, These apartments do not feature air conditioning. Regards
Added 2 years, 7 months ago.
By Leanne, loveholidays.com team member