Club Cala Romani Hotel
Sa Mola, 07689, Cales de Majorca, Majorca, Balearic Islands
All inclusive resort

Family-friendly facilities

3 outdoor pools
Short walk to beaches

Low Deposit Options Available

Interest FREE Payment Plans
Idyllically nestled in a picturesque setting between the sea and hills, you will discover the stunning 3-star, all-inclusive Club Cala Romani Hotel Majorca. Within min... ... Continue reading
'Fair family hotel. Located near shopping areas and the beach. Fantastic service.'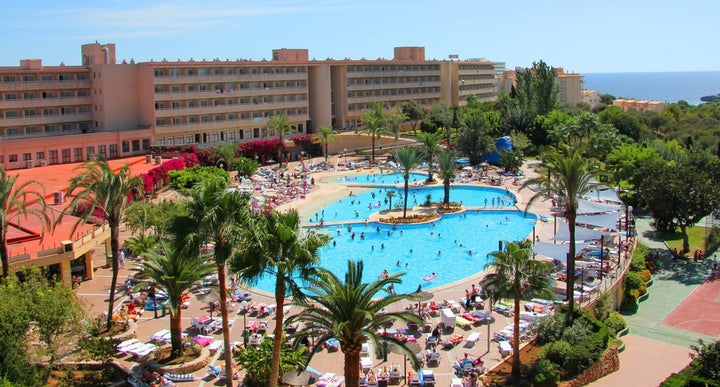 Idyllically nestled in a picturesque setting between the sea and hills, you will discover the stunning 3-star, all-inclusive Club Cala Romani Hotel Majorca. Within minutes of beaches, shops and restaurants, enjoy everything you need right on your doorstep for a perfect short break or relaxing holiday in the sunshine.
Find yourself spoilt for choice with a range of stylish bedrooms and apartments available at the Club Cala Romani Hotel. Guests can enjoy stunning views from their own private terrace or balcony overlooking the pool or hotel surroundings, as you relax and unwind into holiday mode. The rooms at the Club Cala Romani have air conditioning, whereas the apartments have a ceiling fan.
Enjoy all-inclusive meals and drinks from the buffet restaurant at the Club Cala Romani Hotel, where you'll find international favourites and local specialities, or stop off for a refreshing beverage at the Pool Bar or Lounge Bar. Grab your tipple and head to the evening shows to embrace the island spirit by dancing the night away.
The Club Cala Romani Hotel is brimming with activities providing fun for all ages, as well as offering quiet gardens for relaxation. Younger guests will experience fun and excitement all day long at the splash pool, Mini Club and playground, while adults unwind by the pool. For sports fans, there's on-site volleyball, squash and 5-a-side football to keep you active - all without having to stray too far from your sunbed.
Beach fanatics can choose from two beaches – Cala Domingos Gran and Cala Domingos Petit, both within a kilometre of the Club Cala Romani Hotel. The resort centre of Callos de Majorca is a short stroll from the hotel, or you can catch the miniature train to get there in style! Whether you are looking to drink, eat or shop, you are sure to find something to suit your holiday style. For even more choice mixed with a taste of local culture, the town of Manacour is just 18 kilometres away.
So, for great value, superb facilities and entertainment blended with warm Balearic Island sunshine, make your reservation today at the Club Cala Romani Hotel Majorca!
Children
Children's Splash Pool
Mini Club
Playground
Sports and leisure
Aerobics
Archery
Beach Volleyball
Billiards/Snooker
Bocce
Children's Pool
Cycling/Mountain Biking
Darts
Golf
Gym
Outdoor Pool(s)
Parasols
Pool bar
Squash
Sun loungers
Sun terrace
Swimming Pool
Table Tennis
Tennis
Activities
Three outdoor swimming pools
Sun terraces
Tennis courts
Pool Games
Table tennis
Squash
Volleyball
Football 5-a-side
Other Information
Conference Facilities, Mini Supermarket, 24 Hour Reception, Car Parking and Laundry Service.
Palma Airport is approximately 35 miles from Club Cala Romani Hotel.
Please note that resort fees will apply and are payable locally, directly to the resort.
Entertainment
Bar and Lounge Area
TV Lounge
Pool Bar
Full entertainment team
Evening shows
Competitions and dancing
All Inclusive
Meals:
Breakfast, Daily: 08:00 - 10:00.
Lunch, Daily: 13:00 - 14:30.
Dinner, Daily: 19:00 - 21:00.
Snacks, Daily: 10:30 - 12:30, 15:00 - 19:00, 21:00 - 23:00.
Drinks:
Bar, Daily: 20:00 - 00:00.
Lobby Bar, Daily: 19:45 - 00:00.
Pool Bar, Daily: 10:00 - 19:45.
Room facilities
The Club Cala Romani Hotel offers 454 rooms spread over five floors which are made up of double rooms and apartments. One bed apartments feature private bathroom, living area with two sofa beds and pull-out bed, two cooking rings, fridge, separate twin bedroom and terrace. Standard rooms sleep two-three people and feature private bathroom, two beds and a terrace. All rooms have a ceiling fan and telephone. Televisions and safes can be rented from reception. The rooms at the Club Cala Romani have air conditioning, whereas the apartments have a ceiling fan.
Points of interest
Beach/Sea - 600m
Palma Mallorca Airport - 1 hours 25 minutes
Public Transport - 300m
Resort Centre - 300m
To make booking a holiday at Club Cala Romani Hotel in Cales de Majorca easier for you, we provide a range of different payment options. To find out if you can book Club Cala Romani Hotel with a low deposit holiday option, please click the "Price and Availability" button above.
Hotel address : Sa Mola, Cales de Majorca, Majorca, Balearic Islands, 07689
Please wait while we load the map for Club Cala Romani Hotel
Questions and Answers about Club Cala Romani Hotel
If you can't find what you're looking for or if you have a question about this specific hotel, please get in touch via the Add a Question button below. Our knowledgeable team will aim to respond to your question within 72 hours. In the meantime, previously asked questions can be found below and answers to some of the most commonly asked questions can be found on our FAQs page.
55 Questions | 87 Answers