Sahara Nubia Gobi Bay
C/ Bartolome Calafell 23, 07600, El Arenal, Majorca, Balearic Islands
Close to bars and restaurants

Outdoor pool

Short walk to the beach (around 300m)
Access to facilities at Palma Bay Club complex

Low Deposit Options Available

Interest FREE Payment Plans
The Sahara, Nubia and Gobi buildings are located in Playa de Palma, Majorca, and offer 2 star accommodation close to the beach. Perfect for an affordable holiday to Ma... ... Continue reading
'Close to the beach . Room needs to be improved.'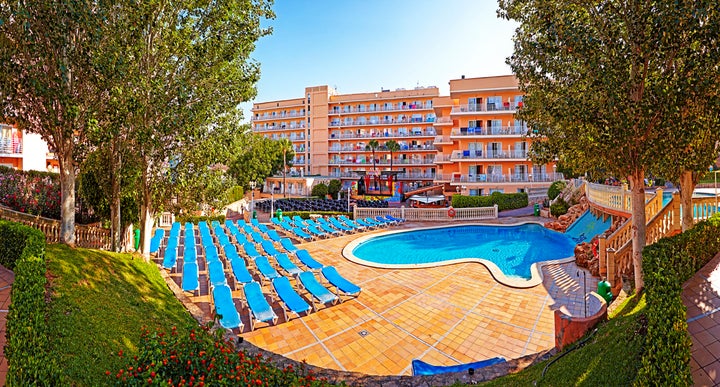 The Sahara, Nubia and Gobi buildings are located in Playa de Palma, Majorca, and offer 2 star accommodation close to the beach. Perfect for an affordable holiday to Majorca. You can also use the facilities at the nearby Club Palma Resort, just a few minutes from the beach.
You'll find simple facilities, such as a reception area, dining room, bar and a swimming pool. There's also a currency exchange station at the hotel if you need it. Some rooms feature an en suite bathroom, a telephone, satellite TV, safe, air conditioning and some rooms have a terrace or balcony where applicable.
Facilities on offer at the Club Complex include 4 swimming pools, including one for adult's only and another more suitable for children. There's also a gym and a sauna.
Other Information
Recently refurbished, the rooms have bathroom, telephone, satellite TV, air conditioning and terrace. The building is situated 40 meters from the hotel Palma Bay and has all the amenities in it.
Please note that resort fees will apply and are payable locally, directly to the resort.
Points of interest
Palma Mallorca Airport - 46 minutes
To make booking a holiday at Sahara Nubia Gobi Bay in El Arenal easier for you, we provide a range of different payment options. To find out if you can book Sahara Nubia Gobi Bay with a low deposit holiday option, please click the "Price and Availability" button above.
Hotel address : C/ Bartolome Calafell 23, El Arenal, Majorca, Balearic Islands, 07600
Please wait while we load the map for Sahara Nubia Gobi Bay
Questions and Answers about Sahara Nubia Gobi Bay
If you can't find what you're looking for or if you have a question about this specific hotel, please get in touch via the Add a Question button below. Our knowledgeable team will aim to respond to your question within 72 hours. In the meantime, previously asked questions can be found below and answers to some of the most commonly asked questions can be found on our FAQs page.
What exactly is included in all inclusive package and description of facilities available and operational times please
1 Answer
All Inclusive
Breakfast buffet
Lunch buffet
Dinner
Snacks at the bar: 10:00-19:00
Drinks All bars: 10:00-23:00 Local Alcoholic drinks and Non Alcoholic Drinks.
Added 7 hours ago.
By Karen.Blackburn, loveholidays.com team member
Does this hotel have Wifi?
1 Answer
Hello, The hotel has wifi available for a local charge. Regards
Added 1 year, 5 months ago.
By Leanne, loveholidays.com team member
Have the rooms got hair dryers in?
2 Answers
Hi emma
Yes there are hair dryers available
Added 2 years ago.
By Zara.Drant, loveholidays.com team member
Rooms at this property do feature a hairdryer.
Added 2 years ago.
By Lisaw, loveholidays.com team member