Fully licensed and bonded
Marvellous Maleme
A charming and small village located in the north-west of the wonderful Greek island of Crete, Maleme holidays will allow visitors to explore the beauty of this island, found in its inland landscapes and coastal treats, as well the friendly, welcoming locals and alluring communal and traditional ethos.
In addition to the natural beauty, the area is also blessed with engaging historical significance, something that is commonplace within the lands of Greece. But beyond the typical archaeological sites and Roman ruins, throughout Maleme you'll discover a much more recent history, in the form of the village's role in the World War II – an aspect of a holiday in Crete that would easily pass tourists by.
Most popular hotels in Maleme
Futura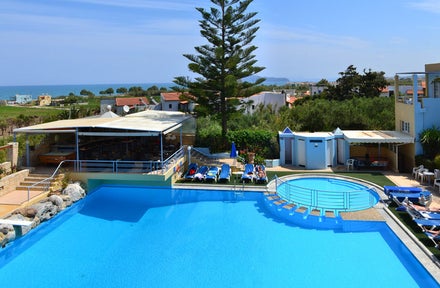 At a glance
Currency:
Language:
Time Zone:

GMT +

Average flight time:

4h 30m
When to go
(°C) Avg. High Temp
Beaches and Memories of War
When you set foot on the island for your holidays to Maleme, you will be following in the footsteps of the German troops that landed here when invading the island, marking the beginning of the famed Battle of Crete. Such was the significance of Maleme's location during this battle, today you can swap the beach or Greek eatery for a visit to a moving German War Cemetery or the poignant RAF memorial – both worthy locations to include on your itinerary during your time in Crete.
Within the village itself, traditional ceramics workshops sit beside quaint little shops and aromatic eateries, all offering an insight into authentic Greece, whether in the form of a mouth-watering traditional meal, or an attractive souvenir to bring home from your holidays to Maleme. Those hoping to grab a slice of sunshine will find a haven in the village's nearby clear pebble shores, while those after a bigger flavour of the island's historical significance will do well in visiting nearby Chania, famed for its Venetian shipyards, striking churches and characteristic traditional streets.
All hotels in Maleme
Not sure which Hotel to go to? Check out our top Maleme hotels:
3 Star Hotels in Maleme