Fully licensed and bonded
Situated on the stunning island of Crete is the popular town of Malia. It's an excellent place for a holiday in 2019 / 2020 thanks to its lovely old town, wide array of bars and restaurants, and excellent position for enabling you to explore the rest of the island. The several beaches in the area, the closest of which is just 1km from the town, offer visitors glorious stretches of sand perfect for sunbathing and swimming. Head to one of the fantastic restaurants in the area and tuck into some delicious Greek cuisine including olives, bread, fresh fish and local vegetables.
Malia is famed for its nightlife and attracts those looking to let loose and party. There is a range of bars and nightclubs which are open late into the evening. Head a little further out of town and you'll find plenty of quieter cafés where you can relax with a glass of wine away from the hustle and bustle of the central district. From discovering the area's ancient history to spending the afternoon in lively a water park, there's something for everyone on a visit to this exceptional resort.
Most popular hotels in Malia
Stelios Residence Apartments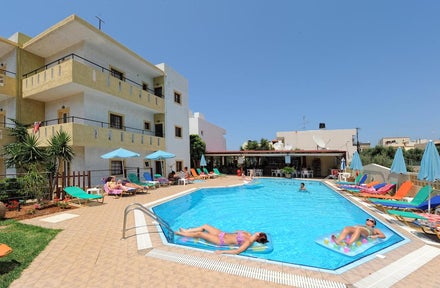 Stelios Residence Apartments
Malia, Crete
At a glance
Currency:
Language:
Time Zone:

GMT +

Average flight time:

5h 55m
When to go
(°C) Avg. High Temp
All hotels in Malia
Not sure which Hotel to go to? Check out our top Malia hotels:
3 Star Hotels in Malia