db Seabank Resort + Spa
Marfa Road, MLH 9063, Mellieha, Malta
Beachfront location

2 swimming pools

Kids' Club
Free WiFi

Low Deposit Options Available

Monthly Payments
Enjoying a wonderful location right by Malta's best beach, the 4 star Seabank Resort & Spa offers a luxurious holiday experience for families and couples alike. There ... ... Continue reading
'Great room. Beautiful beach. Delicious food. Tasty breakfast. Great location. Fantastic service. Good internet service. Best value for money.'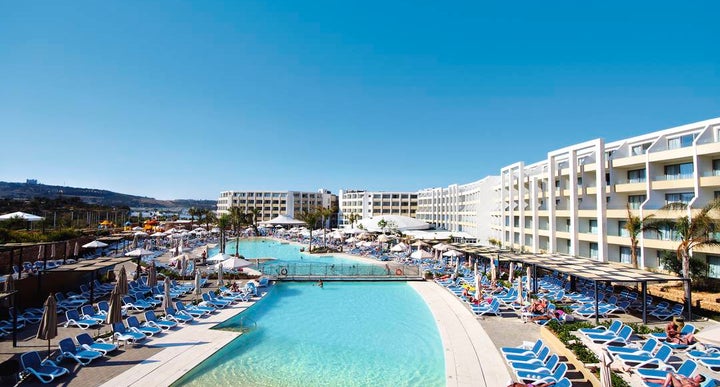 Enjoying a wonderful location right by Malta's best beach, the 4 star Seabank Resort & Spa offers a luxurious holiday experience for families and couples alike. There are a range of facilities, including 2 swimming pools and a variety of dining options.
All 492 rooms are decorated in a calming nautical style, and each comes equipped with flat-screen TV, free WiFi, fridge, tea & coffee making facilities, and a safety deposit box. Depending on your preferences, your room can overlook the sea, the pool, or the beautiful Maltese countryside.
The resort boasts a world-class range of facilities, including 7 restaurants, 2 pools, a fitness centre and an entertainment programme. The large outdoor pool provides 1400m2 of swimming space, a section of which is reserved for adults only. The kids aren't left out though – they get their own shallow splash pool, as well as a varied entertainment programme. There's an indoor swimming pool too, which has spectacular views of the surrounding countryside.
Now, about those seven restaurants we mentioned. Aside from the buffet-style restaurant, where you can enjoy breakfast, lunch and dinner, there's a gorgeous Oriental restaurant with food prepared in front of the guests, a Mediterranean grill buffet and a Brazilian meat restaurant. The Jungle Restaurant serves all-American dishes, while La Pellicola is a winner among lovers of Italian cuisine. Finally, there's a café-bistro that offers some lovely views of the beach. The rich diversity of places to wine and dine in is matched only by the long list of wellness facilities, including a sauna and a steam room, as well as a rich choice of massage treatments. The Seabank Resort is all about relaxation and well-being, making it a top choice for anyone who is after a sumptuous, soothing experience in sunny Malta.
Most popular facilities
Air Conditioning
Fitness Centre
Kids Club
Restaurants
Wifi
Facilities
24-hour reception
Air conditioning
Designated smoking area

FREE WiFi

Heating
Non-smoking rooms
Safety deposit box
Shared lounge/TV area
Tour desk
Pool and wellness
Fitness centre
Hammam
Hot tub/jacuzzi
Indoor pool
Outdoor pool
Sauna
Spa and wellness centre
Swimming pool
Sports and leisure
Aerobics
Archery
Banana Boat
Beach Volleyball
Billiards/Snooker
Bocce
Bowling
Children's Entertainment
Children's Pool
Cycling/Mountain Biking
Darts
Diving
Entertainment Programme
Gym
Heated Pool(s)
Horse Riding
Indoor Pool
Jacuzzi
Jet Skiing
Massage
Minigolf
Outdoor Pool(s)
Parasols
Pool bar
Sailing
Sauna
Steam bath
Sun loungers
Sun terrace
Swimming Pool
Table Tennis
Tanning Studio/Solarium
Water Skiing
Windsurfing
Activities
Children's entertainment programme and kids' club
Fitness centre
Hydrotherapy bath
Massage* Onsite shop
Outdoor swimming pool
Panoramic indoor swimming pool
Spa
Spacious sun terrace with loungers and parasols
Entertainment programme with full range of daily activities, including:
Cultural walks
Pool games
Quizzes
Other Information
Malta's capital with is only 12km away from the hotel and well worth a visit offering museums, galleries and historic sites not to mention a great array of shops to satisfy even the most professional of shoppers. A great bus service operates from the stop directly across the road from the hotel.
Entertainment
Babysitting/child services (Additional charge)
All Inclusive
Meals:
Breakfast, Buffet, Daily: 07:30 - 10:00.
Late Breakfast, Daily: 10:00 - 12:00.
Lunch, Buffet, Daily: 12:00 - 15:00.
Afternoon Tea; Coffee Break; Snacks, Buffet, Daily: 15:00 - 18:00.
Dinner, Buffet, Restaurant (Choice of various buffet restaurants including Asian, Brazillian & Italian), Daily: 18:00 - 22:00.
Dinner, A la Carte, Daily: 17:00 - 20:00.
Late Breakfast, Daily: 10:00 - 12:00.
Lunch, Buffet, Pool Bar (weather permitting May-Oct), Daily: 12:00 - 15:00.
Lunch, Buffet, Pool Bar (weather permitting May-Oct), Daily: 12:00 - 15:00.
Afternoon Tea; Coffee Break; Snacks, Buffet, Daily: 15:00 - 18:00.
Drinks:
Locally produced Alcohol; Locally produced non Alcohol; Imported Alcohol; Imported non Alcohol, Soft drinks; Beer; Wine; Liquers; Vodka; Whiskey; Cocktails; Mineral water; Tea; Coffee.
Daily: 10:00 - 18:00.
Pool Bar (weather permitting), Daily: 10:00 - 18:00.
Pool Bar (weather permitting), Daily: 10:00 - 18:00.
Bar (open 10:00-23:00 from November to April), Daily: 18:00 - 23:00.
Sports/Activities:
Watersports (non-motorised); Games; Entertainment; Animation.
Room facilities
The Seabank Hotel features 492 rooms decorated in a chic nautical style, fully equipped with private bathroom, climate controlled air-conditioning, ceiling fan, direct-dial telephone, television, hair-dryer, mini fridge, in room safe box. All rooms enjoy a furnished balcony offering views of either the bay or the village, surrounding countryside or pool. Extra bedding, linen, towels and cots are available on request. Family rooms are available on request.
Points of interest
Bars - 1km
Beach/Sea - 100m
Luqa Airport - 45 minutes
Public Transport - 100m
Resort Centre - 1km
Restaurants - 1km
Shops - 1km
To make booking a cheap holiday at db Seabank Resort + Spa in Mellieha easier for you, we provide a range of different payment options. To find out if you can book db Seabank Resort + Spa with a low deposit holiday option or to check if you can grab a last minute holiday deal, please click the "Price and Availability" button above.
Hotel address : Marfa Road, Mellieha, Malta, MLH 9063
Please wait while we load the map for db Seabank Resort + Spa
Questions and Answers about db Seabank Resort + Spa
If you can't find what you're looking for or if you have a question about this specific hotel, please get in touch via the Add a Question button below. Our knowledgeable team will aim to respond to your question within 72 hours. In the meantime, previously asked questions can be found below and answers to some of the most commonly asked questions can be found on our FAQs page.
51 Questions | 84 Answers