Fully licensed and bonded
Perfect Paleokastritsa holidays
Thanks to its beautiful backdrop of rugged mountains and deep blue sea, Paleokastritsa is a fantastic holiday destination for anyone looking for a unique beach retreat with plenty of inland adventure. You can explore nearby shores on the water taxi, hike along the hills to reach 13th century ruins and enjoy the lively atmosphere in the local taverns and bars.
What to do
Paleokastritsa holidays are the perfect mix of action and relaxation. There are a handful of pebble bays that are all exquisite in their beauty where you can take a pedalo out on the jewel-like waters, swim, sunbathe and snorkel to your heart's content. The bright sands of Agios Georgios are accessible by water taxi and is a great alternative to the pebbly beaches in Paleokastritsa.
Behind the beaches you can walk for miles in the verdant hills and rugged mountains. Trek to the ruins of the old castle and explore the rich forests alive with bird calls and native plants. Close by you can also find the Theotókos monastery with a small museum that makes for a fascinating day trip.
Don't miss
Indulge in fresh seafood in one of the numerous local restaurants and taverns around the town. Make sure you try the freshly caught lobster for a rare treat.
Local taverns, bars and nightclubs make up the after-hours entertainment in Paleokastritsa. You can drink cocktails and watch the sunset while enjoying the relaxed energy of the locals.
Close to the Monastery you can find a handful of hand craft shops selling beautiful local souvenirs to take back home.
Most popular hotels in Paleokastritsa
CNic Paleo Art Nouveau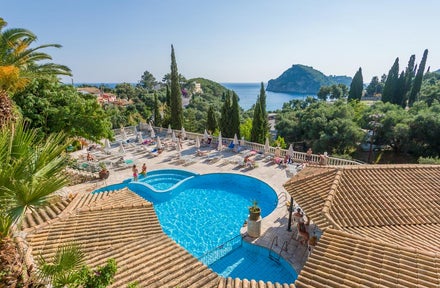 CNic Paleo Art Nouveau
Paleokastritsa, Corfu
Building sandcastles, jumping in the sea, making new friends, and eating ice cream may be at the top of your child's list for a fantastic summer holiday. Parents might add useful services like babysitters, mini clubs, and entertainment geared to all the family. At loveholidays, we've got you ...
At a glance
Currency:
Language:
Time Zone:

GMT +

Average flight time:

3h 35m
When to go
(°C) Avg. High Temp
Paleokastritsa holidays are cool, calm and vibrant enough to keep you going. Spend your days on the beach, riding the water taxis and trekking through the hills. When the stars come out you can end the day with local lobster and cold draught beer.
Take a break in Paleokastritsa
A secluded village accessible via a single winding road, Paleokastritsa feels like an escape to the perfect private island.
Set within a clover-shaped bay, Paleokastritsa offers a stunning landscape that has mesmerised English travellers for decades. Overlooking a steep hillside, the island's 12th century monastery is always a crowd pleaser that combines history and glimpses of endless, stunning views. If you're looking for a beach break that also boasts a slice of culture, a stay by this pristine bay was made for you.
Apart from spending time in the hills or at the beach, Paleokastritsa's village centre is also worth a visit. Boasting many one-off shops, restaurants, tavernas and exciting nightlife options, there is always something to do from dawn to dusk so it's great for the more active of visitors.
Beautiful beaches by the sea
Benefiting from year-round sunshine, Paleokastritsa is the perfect place to unwind by the sea.
Water sports including diving and snorkelling are popular here, especially in the summer months where temperatures can climb up to 35C. For a more relaxed atmosphere, grab a water taxi and head for one of the island's 'sit and sun' beaches, catering strictly to travellers who want to lay back and take in the rays without any effort.
Additionally, access to traditional outdoor sports such as hiking and cycling will give you the chance to see the village's hillside terrain safely, with daily expeditions available for hire should you desire a guide.
Following a day in the sun, retreat to a nearby restaurant for authentic local cuisine. A focus on quality and taste, most dishes are made from fresh seafood sourced directly from the island's marina, making Paleokastritsa holidays a treat for the taste buds as well as the eyes.
For fun after dark take a short drive to Corfu Town, the island's capital, to experience the best of a Greek isle night out.
Sights to see in Paleokastritsa
Although it's tempting to head straight for the sea, consider making the Paleokastritsa Monastery your first stop upon arrival to the island. This majestic 12th century structure features the famous ceiling carving known as the 'Tree of Life' and sits atop a steep hillside which offers stunning views as you make your way from entry to exit.
Nearby, the medieval castle named Angelokastro is accessible by foot or by a short car ride through the village of Lakones. This is where you can also see some of the island's most exotic marine life.
At the centre of the island's water sports, Agia Triada Beach hosts daily organised diving lessons, perfect for families who want to explore life under the sea. Meanwhile, couples will love the island's largest lounge beach, Agois Spirdon. Equipped with canoe and pedal hire stations, you can make the most of the serene surroundings under the sun.
All hotels in Paleokastritsa
Not sure which Hotel to go to? Check out our top Paleokastritsa hotels:
4 Star Hotels in Paleokastritsa