Fully licensed and bonded
A 2019 / 2020 holiday to Palma gives you the opportunity to explore the vibrant capital of the island of Majorca. Easily recognisable by the sight of its intricately built cathedral, the city is packed full of museums, shops, bars and eateries. And has the added bonus of being within easy reach of some beautiful Majorcan beaches.
Palma is crammed with culture, both ancient and contemporary and the city has a thriving nightlife. Palma's old town is filled with ancient passages, historic monuments and magnificent architecture. It can be found around the Gothic cathedral down by the seafront, and from there a lively harbour and promenade stretches over 3km down to the ferry port. With its art, culture and lively multicultural atmosphere, Palma has what you're looking for.
Most popular hotels in Palma
Hotel Amic Horizonte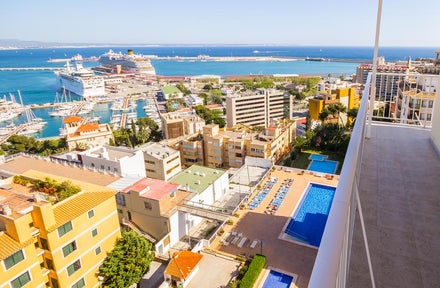 Hotel Amic Horizonte
Palma, Majorca
Want a romantic holiday on a budget? Feel like bask on a stunning beach somewhere hot? Or fancy exploring a new city with your partner? Whatever you're looking for, we've got you covered! You don't need to break the bank to enjoy an unforgettable holiday for two ...
Looking for affordable flights from
Liverpool John Lennon Airport
to your favourite holiday destinations? Blue Air offers some of the best value flights around – and their new routes from Liverpool will whisk you to
Alicante
,
Palma
and
Malaga
in style. Plus they offer awesome service, and loads more frills than ...
At a glance
Currency:
Language:
Time Zone:

GMT +

Average flight time:

2h 45m
Stylish, sunny
Palma
is the beautiful capital city of
Majorca
, the largest of the
Balearic Islands
. The city's historic heart is an inviting web of narrow stone streets crowned by a magnificent Gothic cathedral, and its charming squares are full of pavement cafés and chic little shops. Throw in ...
When to go
(°C) Avg. High Temp
All hotels in Palma
Not sure which Hotel to go to? Check out our top Palma hotels:
3 Star Hotels in Palma