Atlantic Side
Rua Das Caravelas,7, 8365-116, Armacao De Pera, Algarve, Portugal
50Km from FARO (FAO) Airport

Free WiFi in public areas
Low Deposit Options Available

Monthly Payments
This popular establishment, built in 1985 and recently renovated, offers great family accommodation in the center of Armação de Pera, a popular tourist center in the P... ... Continue reading
'Beautiful beach. Great location.'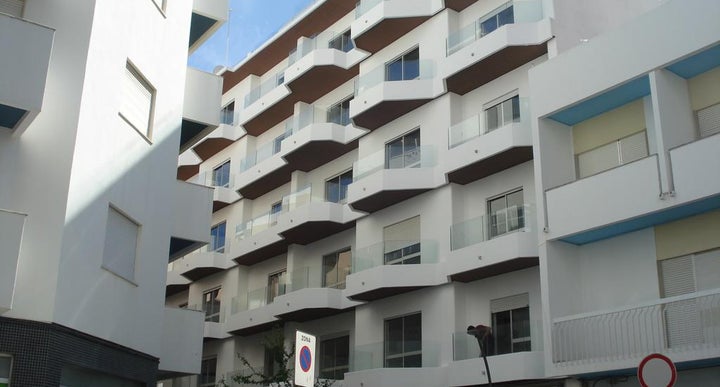 This popular establishment, built in 1985 and recently renovated, offers great family accommodation in the center of Armação de Pera, a popular tourist center in the Portuguese Algarve, just 45 minutes from Faro Airport. The town sits on a large bay and offers excellent beaches as well as a wide variety of bars, cafes and restaurants. Situated a short distance from the beach and the leisure and entertainment areas, this establishment offers 32 bright and spacious apartments and studios. It is also close to public transport links. Facilities include a well-equipped kitchen and seating area, as well as a private bathroom and cable TV. The simple decor is attractive and functional. There are family rooms and sofa beds. The hotel services include a 24-hour reception, Wi-Fi in public areas, 24-hour security, safe and lift. It is also possible to arrange airport transfers and car rental.
Facilities
24hr Reception
Car hire
Family rooms

FREE WiFi in public areas

Lift
Soundproof rooms
Other Information
No parking available
Pets are not allowed
Points of interest
Faro Airport - 1 hours 15 minutes
To make booking a cheap holiday at Atlantic Side in Armacao De Pera easier for you, we provide a range of different payment options. To find out if you can book Atlantic Side with a low deposit holiday option or to check if you can grab a last minute holiday deal, please click the "Price and Availability" button above.
Hotel address : Rua Das Caravelas,7, Armacao De Pera, Algarve, Portugal, 8365-116
Please wait while we load the map for Atlantic Side
Questions and Answers about Atlantic Side
If you can't find what you're looking for or if you have a question about this specific hotel, please get in touch via the Add a Question button below. Our knowledgeable team will aim to respond to your question within 72 hours. In the meantime, previously asked questions can be found below and answers to some of the most commonly asked questions can be found on our FAQs page.
How do you get from airport and how much does it cost?
2 Answers
Hello, Transfers are additional to the basic holiday cost and can be added on at the costing page on the website these start from £27.50 per person. Regards
Added 1 month ago.
By Leanne, loveholidays.com team member
Hi, transfers can be pre-booked throughout the booking process. Prices start from £27pp return. Regards
Added 1 month ago.
By Jon, loveholidays.com team member
why are there 2 different adverts on travel republic site for these apartments with different prices? Is there no swimming pool either?
1 Answer
Hi Chris, You would need to speak with Travel Republic directly to see why they have 2 different adverts with different prices as we are not the same company as Travel Republic. Regards
Added 3 years, 2 months ago.
By Leanne, loveholidays.com team member