Fully licensed and bonded
Pretty Puerto Mogan
Located in the beach-orientated municipality of Mogan, amid a beautiful, steep-sided valley, lies the charming and quintessential Spanish fishing village and resort of Puerto Mogan, a wonderful little destination boasting spectacular coastal treats and views, as well as great infrastructure, ensuring there is continual excitement and comfort embedded in Mogan holidays. Located on the island of Gran Canaria, the resort provides a haven of serenity and authenticity, far removed from the more party-orientated locations found across the island.
Despite the development of the resort, you'll still encounter a wonderful local vibe during your holidays to Puerto Mogan, perhaps best discovered in the delectable seafood on offer, demonstrating the fishing heritage of the location. The streets are just as charming too, lined by trees and flowers, with intriguing shops and pretty little eateries, serving up the delectable flavours of Spain.
Most popular hotels in Puerto de Mogan
Radisson Blu Resort & Spa Gran Canaria Mogan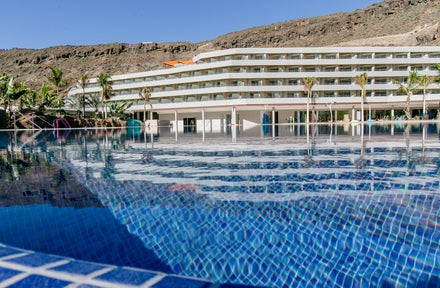 Radisson Blu Resort & Spa Gran Canaria Mogan
Puerto de Mogan, Gran Canaria
Cordial Mogan Valle Apartments
Cordial Mogan Valle Apartments
Puerto de Mogan, Gran Canaria
Pretty fishing villages, sandy beaches, cooking on volcanoes, green lakes, sand dunes and hiking – the
Canaries
offer so much to see and do. As part of our September spotlight, we're helping you choose which island would make your dream holiday. Starting with
Gran Canaria
, here's our mini guide ...
At a glance
Currency:
Language:
Time Zone:

GMT +

Average flight time:

4h 10m
When to go
(°C) Avg. High Temp
Puerto de Mogan attractions
Planning your cheap Puerto Mogan holidays but need some inspiration? loveholidays.com can help you plan what to see and what to visit in Gran Canaria.
An Authentic Resort and Village
You'll come to love the pretty winding canals that link the marina and fishing village during your Mogan holidays, attributing to the resort's nickname of 'Little Venice'. While there may not be the history and grandeur of the Italian city discovered in Puerto Mogan, there is still the colour, character and picturesque qualities embedded in the resort. Bars and restaurants sit beside the beachfront, where you can swap the sun, sand and sea for sangria and paella in a heartbeat.
Fantastic Beaches
There are also plenty of fantastic beaches along the coast and in neighbouring resorts, such as the gorgeous Puerto Rico beach and the stunning manmade Amadores beach, where calm waters make for the perfect location for families, while Playa Taurito possesses something of a luxurious resort vibe that is appealing to certain holidaymakers. Add some variety to your days by exploring some of the diverse and intriguing landscapes of the island.
All hotels in Puerto de Mogan
Not sure which Hotel to go to? Check out our top Puerto de Mogan hotels:
5 Star Hotels in Puerto de Mogan
3 Star Hotels in Puerto de Mogan