Fully licensed and bonded
Quality Quarteira Holidays
The stunning resort of Quarteira, in the heart of Portugal's Algarve region, was once a sleepy fishing village lapped by azure water on one side and surrounded by thick pine forests on the other. It didn't stay secret for long however, and is now one of the most beautiful resorts in the region – although it did manage to retain its quintessential Portuguese charm. It's easy to see why so many choose Quarteira holidays; it has one of the longest beaches in the Algarve, is surrounded by shallow calm waters that are ideal for swimming and, best of all, is just 20km from Faro airport so you're not wasting any beach time in a taxi!
Most popular hotels in Quarteira
Aquashow Park Hotel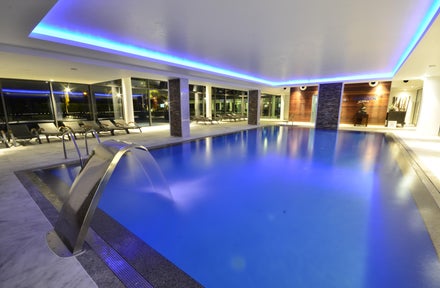 Aquashow Park Hotel
Quarteira, Algarve
Atismar Hotel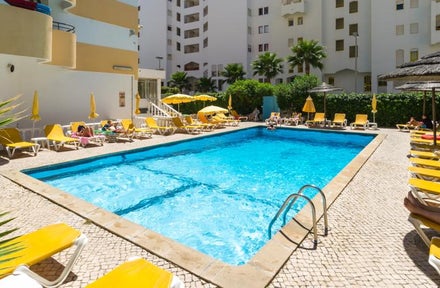 Atismar Hotel
Quarteira, Algarve
At a glance
Currency:
Language:
Time Zone:

GMT +

Average flight time:

3h 0m
When to go
(°C) Avg. High Temp
Things to do in Quarteira
Besides golf and enjoying one of the best beaches in the Algarve, there are plenty of other things to do in Quarteira. The Atlantic Park waterpark is guaranteed to delight anyone under the age of 12 and a lot of older people too.
History buffs should pay a visit to the ruins of Cerro da Vila, the remnants of an ancient Roman villa. Loulé is another historic and very picturesque town, where a popular market is held every weekend. There are also a number of historically significant buildings to admire. In February, the town holds a carnival famous throughout the Algarve for its colour, music and merriment.
Relaxing Retreats
There is a huge range of accommodation to choose from along the palm tree lined Avenida Infante de Sagres, better known as the 'Marginal', and plenty of places to eat, drink and shop too. At the end of the avenue is the marina, where you can spot glamorous yachts coming and going all day. The sweeping 3 kilometre long beach begins at the other side of the marina. Over at its western edge you'll find local fishermen going about their daily business, while the rest is dedicated to sun worshippers and swimmers enjoying their Quarteira holidays.
Gleaming Golf Courses
Quarteira holidays are not only popular with people from this corner of the world, but also with Portuguese holiday makers too. It's the perfect place to base yourself if you intend to visit some of the bigger nearby resorts like Vilamoura or the intriguing city of Faro; both of which are well worth taking day trips to for a dramatic change in scenery. You can explore all the Algarve has to offer either by hiring a car or availing of the tourist train than runs between all of the major resorts.
Quarteira, as well as the Algarve in general, is very popular with golfers and boasts several world class courses. It also has a sterling reputation as a family destination however, so there is plenty to keep the rest of the clann entertained while the golfers are getting their fix!
Wander through the weekly local markets or get up early and see the locals bargaining at the daily fish market, before inspecting some typical Portuguese architecture – both historical and modern – and trying some Caldeirada, the local fish and potato stew.
All hotels in Quarteira
Not sure which Hotel to go to? Check out our top Quarteira hotels:
4 Star Hotels in Quarteira
3 Star Hotels in Quarteira