Fully licensed and bonded
Rhodes is one the most popular of the Greek islands and is known for its natural beauty. People flock here for its beautiful beaches, historic attractions and exquisite cuisine. The western side of the island is great for those into water sports as the winds provide excellent waves for surfing. The more sheltered east is perfect for sun worshippers. The water surrounding Rhodes is filled with an abundance of marine life which is perfect for those who enjoy snorkelling and diving.
A holiday to Rhodes in 2019 / 2020 is also a food-lover's paradise. Famed for its fresh ingredients and classic flavours, you can tuck into dishes such as kebabs, moussaka and, of course, a Greek salad. Rhodes has a variety of different resorts, some of which are suited to younger travellers looking to party, while others will be preferred by those who enjoy a more sedate trip. Many of the island's attractions and features are suitable for children making it an excellent place to bring the whole family. From the water parks to the Modern Greek Art Museum, start your Greek adventure in Rhodes for the holiday of a lifetime.
Most popular hotels in Rhodes
Matina Pefkos Aparthotel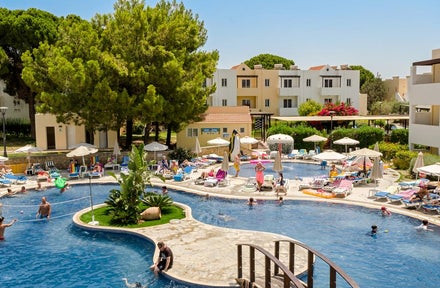 Matina Pefkos Aparthotel
Pefkos, Rhodes
This one's for the people who love the finer things in life. The travellers who crave a touch of indulgence. The sun worshipers who seek the perfect destination along with a picture-perfect hotel. Well, this one offers you just that and so much more. So, if you're thinking ...
Rhodes is a popular Greek island and there's no wonder why. Boasting a host of beach resorts along with remnants of history, Rhodes appeals to a variety of holidaymakers. The island's Old Town takes you back in time with medieval streets and fascinating sights like the Palace of ...
At a glance
Currency:
Language:
Time Zone:

GMT +

Average flight time:

4h 30m
Rhodes is a fantastic choice when it comes to a
family holiday
. Being one of the most popular
Greek Islands
, Rhodes has a mixture of fun activities and lovely landscapes for everyone in the family to appreciate and enjoy. Stunning sandy beaches are perfect to have some relaxation time, whilst ...
The wonderful Greek island of Rhodes has so much to offer its visitors. From a fantastic Mediterranean climate and lovely sandy beaches to ancient Greek ruins and fascinating Greek mythology. Traces of history left behind from the past can be seen all around
Rhodes
and those are what make up ...
When to go
(°C) Avg. High Temp