Fully licensed and bonded
Seclusions on Santa Ursula Holidays
Hidden among the more scenic regions of Tenerife, Santa Ursula holidays are the ideal respite from the hustle and bustle of the world, while situated among some of the finest verdant beauty on the island; fertile hills and valleys paint the scene before backing onto resplendent views of Mount Teide. Enjoying nearly all-year-round sunshine, anyone visiting Santa Ursula can be sure of topping up their tan while enjoying the picturesque scenes. Those wishing to be proactive in perusing the varied landscape will be best suited to hiking through the natural splendour, with numerous tours on offer to explore the splendid vegetative virility.
Most popular hotels in Santa Ursula
Spa La Quinta Park Suites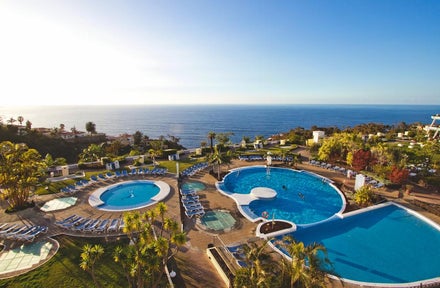 Spa La Quinta Park Suites
Santa Ursula, Tenerife
At a glance
Currency:
Language:
Time Zone:

GMT +

Average flight time:

4h 15m
When to go
(°C) Avg. High Temp
Things to do in Santa Ursula
The best part about a holiday to this part of Tenerife is that you are never too far away from a relaxing beach or the hustle and bustle of a big city. From quaint days spent on the local beach topping up your tan and catching up on light reading, to visiting the nearby town of Puerto de la Cruz, the top Santa Ursula attractions are always close by.
Wine and Dine
As the town is located on the coast of the island, one of the top Santa Ursula attractions is to indulge in the delicious and freshly caught seafood that is served up in eateries all around town. From grilled fish to mouth-watering tapas, it is hard to go hungry in a place that truly enjoys food. Anybody who's missing their home comforts may enjoy some food and music at one of the traditional English pubs in nearby Puerto de la Cruz.
Action and Adventure
Not far from Santa Ursula you will find the world-renowned beach area of Puerto de la Cruz. You might be tempted to explore the rocky coves or perhaps even try out some water sports in this place, perfect for those searching for some aquatic things to do in Santa Ursula. There are few better European surf spots than Playa Martiànez, especially during the month of March – worldwide surfing championships are held nearby for good reason. Keen hikers are advised to spend some time visiting the extinct volcano of Mount Teide while here in Santa Ursula.
Family Fun
For a great day of family fun you should head to Loro Parque, home to numerous fascinating wildlife species located in the nearby town or Puerto de la Cruz. Children will enjoy watching the penguins on their manmade iceberg here, as well as getting up close and personal with some of the most entertaining group of animals. There are also plenty of beaches nearby that can cater to families with small children; shallow beaches, calm waves and close to amenities so you can make a whole day of it. If you don't fancy any great physical exertion, then take the cable car up to the top of the Mount Teide, from where there are some beautiful sights to take in and family photo opportunities to be had. You should also include a trip to the beach of Playa Jardin on your travel itinerary. Here you will find splendid tropical gardens and charming little cafés, the ideal place for a refreshing beverage on a hot afternoon.
Culture Vulture
Cultural connoisseurs won't want to miss out on a visit to the colonial town of La Oratova to the northeast of Tenerife. Enjoy a relaxing afternoon stroll along the quaint old streets and then have some tapas in one of the restaurants. Discover the multiculturalism of the party town of Puerto de la Cruz and satisfy your sweet tooth at one of the surprisingly many German bakeries, before learning about the colonial past of the Canaries. The Old Town is not as old as one may think, but it does blend in quite nicely with the other historic buildings.
Nightlife
For a fun-filled evening make a trip to the bars and nightclubs of Puerto de la Cruz. Whatever your musical tastes may be you are guaranteed to have a good night out in these top class venues. Elements is a quaint bar in this city, located in the favoured Ranilla District, and a hangout for holidaymakers looking for good music and tasty cocktails. The Colour Café is another trendy bar, situated in Plaza del Charco. You can chill out in the Canarian courtyard while listening to the live music or discs, played by the resident DJ. For a really laid-back evening you should visit the Pequeno Buda, where seating comes in the form of comfortable poufs and cushions, there is also a great variety of cocktails on offer here. If you're feeling lucky on your holiday spend the evening at the Casino Taoro, where there is the usual assortment of roulette wheels and poker tables.
Explore and Excite
From Santa Ursula you will be able to explore the best of what Tenerife has to offer, and while you'll be worlds away from the vibrant nightlife of the southern shores, you will not be bereft of outstanding golden sands and a plethora of things to get involved with. In regards to fuelling your excursions to other parts of the island, Tenerife offers up some of Spain's traditional tapas options and you'll always find a wealth of intriguing choices that will tantalise the palate, as well as offerings from English-style bars and bistros for a taste that's a little closer to home – a homely tinge to your holidays to Santa Ursula.
Get Out and Explore
From volcano tours to showings of valleys and hills such as Orotava Valley near Los Realejos, the adventurers among you will be well catered for when it comes to experiencing something new, while those looking for fun can head on over to Aquapark waterpark in Puerto de la Cruz for an array of slides and rides you will never forget. With there being something for everyone on Santa Ursula holidays, don't panic if you just want an escape where you can rest your weary feet, Spa La Quinta bases itself in Santa Ursula and this brilliant spa will surpass your wildest dreams in providing a tranquil and peaceful getaway.
All hotels in Santa Ursula
Not sure which Hotel to go to? Check out our top Santa Ursula hotels:
4 Star Hotels in Santa Ursula