Fully licensed and bonded
A 2019 / 2020 holiday to Seville is brimming with culture, physical wonders and zest for life. The home of Don Juan, Figaro and Carmen, Seville lays on the banks of the Guadalquivir soaking up the Mediterranean sun. The largest city in the south of Spain, Seville is also the capital of Andalusia, attracting visitors from all over the world with its legendary heritage, spectacular architecture and immersive Spanish culture.
Visit Seville's visual marvels including the Alcazar Palace, the cathedral, lush parks and gardens, and the cultural heritage museums. Spend the day at a local theme park or water park, or indulge in some tapas and an evening flamenco show. Visit the Aquarium or get in a round of golf. Whatever your inclination, you'll find something in Seville tailored to your tastes.
Most popular hotels in Seville
Hilton Garden Inn Sevilla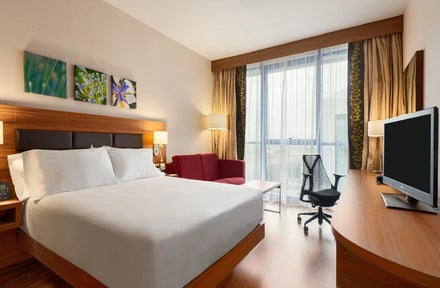 Hilton Garden Inn Sevilla
Seville, Andalucia
If you love chocolate as much as we do, you'll love the Easter traditions in the UK! Eggs, eggs and more chocolate eggs. But in Corfu, they throw pots at Easter, and in the Czech Republic, men (gently!) whip the legs of ladies they like with pussy-willow branches on ...
At a glance
Currency:
Language:
Time Zone:

GMT +

Average flight time:

2h 50m
Christmas is just around the corner and we're all pondering the perfect gift for friends and family. Why not treat yourself to a
city break
or a spot of
winter sun
– and get your holiday shopping done at the same time? (We like to think of this as the ...
Check out our essential guide to where to go in
Spain
, from its sun-drenched islands and costas to its thrilling cities and charming fishing villages.
Spain
is vast and varied, a beautiful country blessed with remarkable landscapes, fascinating culture, and a spectacular coastline. Whether you're coming for the sunshine ...
When to go
(°C) Avg. High Temp
All hotels in Seville
Not sure which Hotel to go to? Check out our top Seville hotels:
4 Star Hotels in Seville