Fully licensed and bonded
For a holiday destination that's sun-kissed, steeped in history and serves up some serious island adventure, head to Sicily. Whether for your autumn 2019 / 2020 break, or 2019 / 2020 holiday adventure, this legendary island is a garuanteed hit. The largest island in the Mediterranean, Sicily, nestled just off the toe of the boot of Italy, has a lot to offer. Boasting some of the Med's most beautiful beaches, and breathtaking countryside, Sicily holidays have a scenic spot to savour at every turn.
Whether you're on the island to immerse yourself in Italian history and heritage or would prefer to soak up the sun on the beach, Sicily holidays let you do all this and more. Tuck into top-notch local cuisine in a beach front restaurant, scale the slopes of the enigmatic Mount Etna or make a splash in the ponds and waterfalls in the wilderness at Cava Grande. To explore the nearby islands, hop on a boat in Milazzo and set a course for the Aeolian Islands. Expect unspoilt beaches, picturesque towns and more volcanic hotspots to enjoy - including mud baths, hot springs and thermal waters warming the sea lapping at the shores.
Most popular hotels in Sicily
Hotel Villa Sonia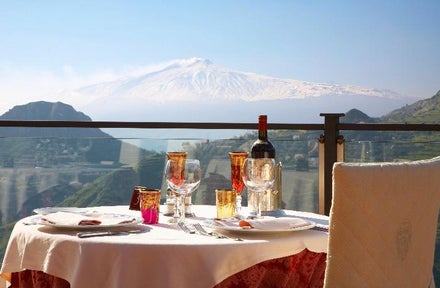 Hotel Villa Sonia
Taormina, Sicily
Sicily
is a beautiful Mediterranean island that offers a bit of everything: gorgeous beaches for sun-seekers, fabulous food for gourmets and oodles of ancient monuments for culture buffs. All rolled up in plenty of laid-back Sicilian charm. There's so much to see and do on this gorgeous island that ...
Going on holiday for the first time together is a big step! You want it to be romantic, exciting – and hopefully lots of fun! We've picked out some of the best destinations for your first holiday together – places that we think ooze romance, but where you can also ...
At a glance
Currency:
Language:
Time Zone:

GMT +

Average flight time:

3h 35m
Whether you're travelling with tots or teens, we've got the perfect holiday destination for you and your family! We've rounded up the top 10 family-friendly resorts in Europe, whether you're looking for a laid-back beach holiday, somewhere with enough action to keep the teens happy, or ...
Soak up the dolce vita with our essential guide to where to go in Italy. From the glamorous capital of Rome to medieval time capsules in Tuscany, we've picked out the best destinations in Italy for your holiday. Food, beaches, history, culture…we've got all the Italian highlights ...
When to go
(°C) Avg. High Temp
Top Sicily Destinations
Check out some of our most popular cheap holiday destinations in Sicily