Gran Garbi Hotel & Aquatic Park
C/ Potosi 7, 17310, Lloret de Mar, Costa Brava, Spain
Close to the beach

Outdoor pool

Sun terrace
Indoor pool

Low Deposit Options Available

Monthly Payments
The Gran Garbi Hotel in Lloret de Mar is an ideal base for a family holiday to Costa Brava. This laid-back, 4-star accommodation has an outdoor pool, entertainment, an... ... Continue reading
'Great location. Fantastic service. Best value for money.'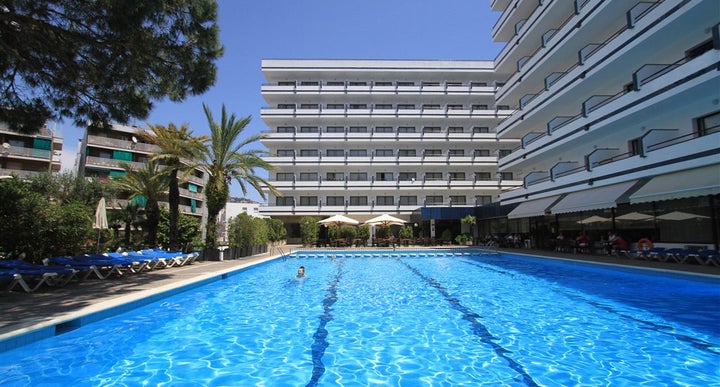 The Gran Garbi Hotel in Lloret de Mar is an ideal base for a family holiday to Costa Brava. This laid-back, 4-star accommodation has an outdoor pool, entertainment, and a beach right on its doorstep. Best of all, entrance to the local water park will be included in the price of your stay!
Lie back and enjoy the Spanish heat around the hotel's outdoor pool and sun terrace. It's a great place for the whole family to hang out, whether you're swimming, sunbathing, or making the most of the hotel's WiFi. The hotel also has an indoor pool, if you need a break from the heat. For kids, there's a small playground and a games room on-site, and adults can take some time out in the hotel's solarium. But a highlight for whole family will be the Garbi Splash Water Park. Located just behind the hotel, this exciting attraction has enough slides and chutes to keep everyone entertained. And, as entrance to the water park is included in the price of your stay, your visits will be fun-filled and worry-free.
During your stay at the Gran Garbi Hotel, you'll be in a great location. The hotel is close by to local bars and restaurants in Lloret de Mar, and the resort's main beach is only a short walk away. You'll have all this and more to enjoy on a holiday to Costa Brava with loveholidays.
Please note: We're excited to let you know that the Aqua Park will be open in this hotel from the 1st of June. The waterpark closes on the 16th of September.
Most popular facilities
Air Conditioning
Car Hire
Family Rooms
Pool
Wifi
Bar
Currency Exchange
Playground
Terrace
Facilities
Air conditioning
Family rooms
Heating
Lift
Paid WiFi
WiFi in the hotel rooms at a cost of €4 per 24 hours
Pool and wellness
Indoor pool Outdoor pool Solarium Sun loungers or beach chairs Swimming pool* Water slide
Sports and leisure
Aerobics
Aqua aerobics
Archery
Billiards/Snooker
Bocce
Bowling
Canoe
Children's Entertainment
Children's Pool
Entertainment Programme
Heated Pool(s)
Indoor Pool
Outdoor Pool(s)
Parasols
Pool bar
Sailing
Sun loungers
Sun terrace
Table Tennis
Activities
Billiards
Children's playground
Entertainment staff
Games room
Indoor pool
Solarium
Table tennis
Food and Drink
Bar Breakfast options Restaurant (buffet)* Snack bar
Other Information
Opening dates for the aquatic park are unconfirmed, but should range between 15/06-15/09. The all-inclusive package does not apply in the Aquapark, so any meals or drinks will have to be paid for. Tourist tax is not included in the price. This will have to be paid at the hotel.
Other facilities
24hr Reception
Car hire
Currency exchange
Garden
Luggage storage
Outdoor pool
Sun terrace
Tour desk
All Inclusive
Daily from 11h00 – 23h00* Starts at 13h00 on arrival day and ends at 13h00 on departure day.

Breakfast: 08h00 – 10h00 buffet in the dinning room Lunch and dinner

Buffet meals in our restaurant are included during the regular opening times (12h45 – 14h45 and 18h45 – 20h45)

Water, house wine (served in glasses), beer and soft drinks are included. There is a supplement for other drinks (even for those that might be included in the bar). Snacks: 11h00 – 12h30 and 15h30 – 18h30: served at the bar Including hamburgers, hot dogs, chips, olives and nuts
Room facilities
The Gran Garbi Hotel & Aquatic Park has 326 rooms which are spread across its six floors. Each room is finished to a high quality with balcony and feature air conditioning and climate control for comfort. Rooms have a refrigerator and television for the guest's convenience and a fully equipped bathroom with hairdryers. Wi-Fi can be enjoyed in all rooms for an additional surcharge and daily housekeeping and in-room safes are provided too.
Points of interest
Barcelona Airport - 1 hours 15 minutes
Bars - 100m
Beach/Sea - 300m
Girona Airport - 1 hours 30 minutes
Public Transport - 100m
Resort Centre - 300m
Restaurants - 100m
Shops - 100m
To make booking a cheap holiday at Gran Garbi Hotel & Aquatic Park in Lloret de Mar easier for you, we provide a range of different payment options. To find out if you can book Gran Garbi Hotel & Aquatic Park with a low deposit holiday option or to check if you can grab a last minute holiday deal, please click the "Price and Availability" button above.
Hotel address : C/ Potosi 7, Lloret de Mar, Costa Brava, Spain, 17310
Please wait while we load the map for Gran Garbi Hotel & Aquatic Park
Questions and Answers about Gran Garbi Hotel & Aquatic Park
If you can't find what you're looking for or if you have a question about this specific hotel, please get in touch via the Add a Question button below. Our knowledgeable team will aim to respond to your question within 72 hours. In the meantime, previously asked questions can be found below and answers to some of the most commonly asked questions can be found on our FAQs page.
Is there an age/height restriction on the water slides?
1 Answer
Hi, unfortunately we have not been provided this information from the hotel. If you email them directly they will be able to answer this for you. Regards
Added 2 months, 3 weeks ago.
By Jon, loveholidays.com team member
hi when are the water slides open i.e. which months and is it free to use if you stay in the hotel? thx
2 Answers
New Waterpark !!
Located beside HOTEL GRAN GARBI MAR **** in Lloret de Mar.
Great garden area beutifully landscaped, with slides and games for children and several slides up to 9 metres tall.
Available for the customers at GRAN GARBI ****, GRAN GARBI MAR ****, GARBI PARK **** and VILLA GARBI free of charge but All Inclusive and food and drink has to be taken at the hotel you are staying at **. Open from mid June till mid September.
Added 10 months, 1 week ago.
By Karen.Blackburn, loveholidays.com team member
Yes its free for guests and are open from mid-June till mid-September
Added 10 months, 1 week ago.
By Charlotte, loveholidays.com team member
What drinks are all inclusive, does it include spirits? Thanks
1 Answer
Water, house wine, beer and soft drinks are included in the all inclusive package. Other drinks must be paid for.
Thank you for your question
Added 1 year, 2 months ago.
By Ella.Grimwade, loveholidays.com team member