H.TOP Gran Casino Royal Hotel
Esports, 17310, Lloret de Mar, Costa Brava, Spain
Near the beach

Large outdoor pool

Lively central location
Top entertainment programme

Low Deposit Options Available

Monthly Payments
The H.Top Gran Casino Hotel offers great value 3 star accommodation close to some of the liveliest attractions on the Costa Brava. There's a large outdoor pool, garden... ... Continue reading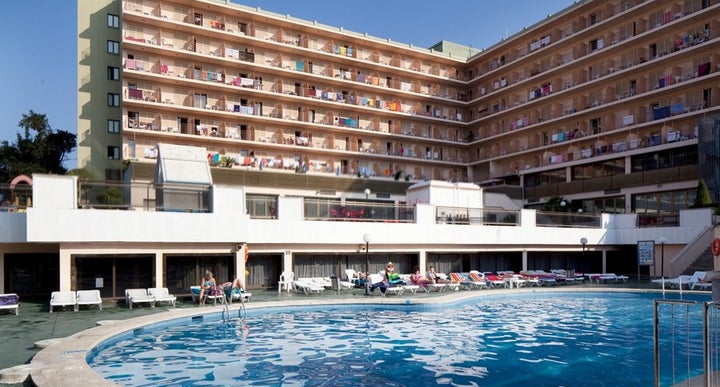 The H.Top Gran Casino Hotel offers great value 3 star accommodation close to some of the liveliest attractions on the Costa Brava. There's a large outdoor pool, gardens and quick access to the beach.
You'll be staying just 400m from the blue flag beaches at Lloret de Mar, which means they have passed the quality that guarantees clean, unspoiled sands. This gives you chance to grab the best possible sunbathing spot.
Rooms at the H.Top Gran Casino Hotel are bright, with pastel decor and comfortable furnishings. Each room has either a private balcony or terrace, an en-suite bathroom, satellite TV and cool tiled floors. Choose from single, twin, triple or quadruple rooms, depending on your needs, making the hotel particularly popular for groups of friends on holiday together.
The hotel has several bars and dining options so you can experience plenty of variety without setting foot out of the door. When you do decide to venture out, you can also have a big night out in the bars and clubs nearby. Kids have their own playground, and activities on-site for adults include billiards and a games room, plus daytime and evening entertainment.
During the day, you can stay around the hotel's outdoor pool and garden, or visit the tour desk to choose an excursion. The Marine land and Water World Park is a popular nearby destination for visitors, and you can also hire a bike or quadricycle to venture further from the hotel if you want to.
The H.Top Gran Casino will give you an excellent base to discover Lloret de Mar and the Costa Brava for yourself, book now with loveholidays.com.
Facilities
Family rooms
Heating
Lift
No internet access available
Safety deposit box
Shops (on site)
Pool and wellness
Outdoor pool
Swimming pool
Sports and leisure
Archery
Billiards/Snooker
Children's Entertainment
Children's Pool
Entertainment Programme
Golf
Jacuzzi
Outdoor Pool(s)
Parasols
Sun loungers
Sun terrace
Table Tennis
Tanning Studio/Solarium
Activities
Billiards
Children's playground
Other Information
400m from the beach, and numerous sports and entertainment facilities, shops, lively bars and restaurants are nearby, 150m within the resort, or in the surrounding area.
A city tax where applicable is to be paid in cash locally on check-in.
24 hour Front Desk services, housekeeping, currency exchange, tour desk, fax & copy service, car hire, lift, safe boxes, 24 hour medical service available, souvenirs/gift shop, no internet available, no parking available.
Other facilities
24hr Reception
Garden
Gift shop
Outdoor pool
Tour desk
All Inclusive
Meals:
Breakfast, Buffet, Restaurant, Daily.
Lunch, Buffet, Restaurant, Daily.
Dinner, Buffet, Restaurant, Daily.
Snacks, Buffet, Restaurant (hot & cold snacks available except during meal times), Daily: 10:00 - 00:00.
Ice Cream, Children Only, Daily: 10:00 - 18:00.
Drinks:
Locally produced Alcohol; Locally produced non Alcohol, Bar, Daily: 10:00 - 00:00.
Sports/Activities:
Subject to Availability (Guests staying on All Inclusive can hire bikes & quadricycles FREE of charge).
Points of interest
Barcelona Airport - 1 hours 15 minutes
Bars - 100m
Beach/Sea - 300m
Girona Airport - 1 hours 30 minutes
Public Transport - 100m
Resort Centre - 100m
Restaurants - 100m
Shops - 200m
To make booking a cheap holiday at H.TOP Gran Casino Royal Hotel in Lloret de Mar easier for you, we provide a range of different payment options. To find out if you can book H.TOP Gran Casino Royal Hotel with a low deposit holiday option, please click the "Price and Availability" button above.
Hotel address : Esports, Lloret de Mar, Costa Brava, Spain, 17310
Please wait while we load the map for H.TOP Gran Casino Royal Hotel
Questions and Answers about H.TOP Gran Casino Royal Hotel
If you can't find what you're looking for or if you have a question about this specific hotel, please get in touch via the Add a Question button below. Our knowledgeable team will aim to respond to your question within 72 hours. In the meantime, previously asked questions can be found below and answers to some of the most commonly asked questions can be found on our FAQs page.
14 Questions | 19 Answers