Fully licensed and bonded
Chock-full of pulsating cities that never sleep, rich historical communities and diverse authentic cuisine – all set against a backdrop of gorgeous landscapes you won't find anywhere else – Turkey truly is a destination with a difference. With a dazzling mix of things to do, with all the usual creature comforts of a standard resort holiday also on offer, we're sure you'll be swept up in the magic of a trip to Turkey. Whether you're after sun-soaked bliss along the country's shimmering coastline, a heady mix of sights and smells in Istanbul, or looking to get off the beaten track in Turkey's more rural settings, you'll be glad you booked in 2018 with Love Holidays. Experience a culture that's as far removed from home as you can get, while also indulging in all the pleasures you're used to on a sunshine holiday when you need some down time. One thing's for sure – Turkey is a holiday destination you won't soon forget.
Top destinations in Turkey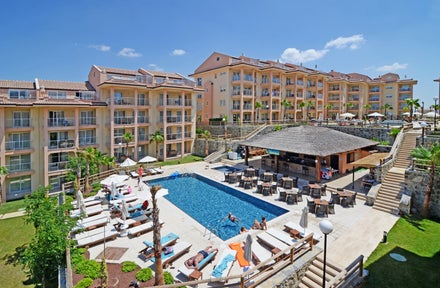 Deposit from
€49
per person
Aegean Coast from

€210

pp
Most popular hotels in Turkey
Probably the best way to explore a country's culture is through its food, and there's no more fun way to do it than by tucking into some street food! Whether you're sunning yourself in the
Riviera Maya
, strolling through the back streets of
Bangkok
or moseying around ...
2018 is going to be YOUR year! If you want to kick-start the year on a feel-good note, then don't want to miss out on this list of our favourite places for a healthy holiday. We've got the lowdown on the best destinations for all kinds of activities ...
At a glance
Currency:
Language:

Turkish

Time Zone:

GMT +3

Average flight time:

4h 20m
At the end of 2017, UNESCO officially acknowledged what all us pizza fanatics have always known: nothing compares to Neapolitan pizza. The art of 'pizzaiuoli' – the traditional practice of pizza-making that originated in Naples – is now inscribed on the Intangible Cultural Heritage List. It's in good company: other cuisines ...
We've come up with the top ten holiday destinations for going on holiday with your toddler. These resorts have safe, toddler-friendly beaches, so you can relax knowing that your little one can enjoy making sandcastles and paddling in safety. Many have special attractions – such as nature reserves with baby ...
When to go
(°C) Avg. High Temp
Top Turkey Destinations
Check out some of our most popular cheap holiday destinations in Turkey