Fully licensed and bonded
The United States of America is one of the biggest countries in the world and home to some of the most diverse places to visit. From the cosmopolitan vibes of New York City to the beach life in California – variety is not a problem when you take a holiday to the USA in 2019 / 2020. If it's culture you are after, then you're certainly in for a treat. The bars and theatres of New York are famous all over the world and the vintage promenade of Miami's South Beach will transport you back to the 1960s in a heartbeat.
If you have a penchant for the great outdoors, then fear not, your tastes are well catered to in the U.S. From the spectacular Grand Canyon to the breathtaking national parks there are opportunities for hiking, camping, rafting and adventures aplenty. The country is also incredibly child-friendly. With multiple theme parks and other attractions suitable for young people, you'll be able to keep the whole family entertained when you book a holiday to this great country.
Most popular hotels in USA
Avanti Palms Resort and Conference Center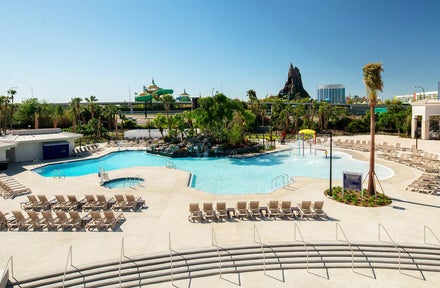 Avanti Palms Resort and Conference Center
Orlando, Florida
The great American road trip is a once in a lifetime experience. Covering vast stretches of the country, crossing over from state to state, there are many reasons why
USA
road trips are a popular choice. Not only is the idea of jumping in a vehicle and travelling with your ...
At a glance
Currency:
Language:
Time Zone:

GMT +

Average flight time:

8h 0m
When to go
(°C) Avg. High Temp
Top Usa Destinations
Check out some of our most popular cheap holiday destinations in Usa