Fully licensed and bonded
Historic Charm on Valletta Holidays
An area of rich history and cultural allure, Valletta holidays will reveal to you an abundance of ancient appeal in the form of captivating architecture and monumental landmarks. Recognised as a UNESCO World Heritage Site – you can rest assured knowing you will not be left short of things to do or places to see in this fascinating city. A must-visit during your trip to Malta is the island's capital city which not only exudes old-world charm but is also surrounded by a magnificent stretch of coastline where holidaymakers can soak up the warm Maltese sunshine when a day off from sightseeing is required. If you are in need of some retail therapy during your getaway then why not head to the nearby resort of Sliema? Here you will find many shops to browse; from designer boutiques to local shops selling sweet souvenirs and holiday memorabilia.
Most popular hotels in Valletta
Grand Excelsior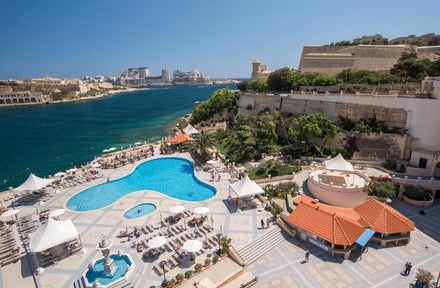 A
city break
is a fantastic way for getting your holiday fix when you're short of time or just feel like getting away from the daily grind for a few days. And thanks to our great
last minute
city break deals at loveholidays, a short break doesn't have ...
At a glance
Currency:
Language:
Time Zone:

GMT +

Average flight time:

3h 45m
Valletta
, capital of Malta, is a captivating fortress city of golden stone that sits on a narrow peninsula. It was built by the Knights of the Order of St John in the 16th century, and its elegant grid of palace-lined streets has been so beautifully preserved that it is now ...
When to go
(°C) Avg. High Temp
Things to Do in Valletta
To make the most of your time in this historic city, read the loveholidays.com list things to do on a Valletta holiday.
Discover by Day, Party by Night
There are many sites worth visiting in Valletta, both within the city centre and in the surrounding areas. Put on your walking shoes and start exploring the city, descending on sites such as Manoel Theatre, St. John's Co Cathedral and Fort St Elmo which are all photo-worthy, so make sure you remember to pack your camera.
Plenty of Choice
For a fun evening out during your holidays to Valletta, head to the nearby St Julian's which can be easily reached in around 15-minutes. Known as the liveliest district in Malta you can spend your time enjoying the vibrant nightlife by sipping cocktails in the many beachfront bars before heading on to one of the many clubs or live music events in the area.
All hotels in Valletta
Not sure which Hotel to go to? Check out our top Valletta hotels:
5 Star Hotels in Valletta