Top hotels in Lanzarote
Our holiday villas in Lanzarote come with great value and high standards. You can book with confidence knowing that we are ABTA members. And you can expect the same honest and efficient service from us whether you choose from our range of cheap holiday villas in Lanzarote or 5 star accommodation and luxury villas. In Lanzarote we have a great deal for you.
However, villas aren't the only accommodation on offer here. You'll find many luxury hotels in Lanzarote and even fantastic all inclusive hotels on the island. If you're wondering where in Lanzarote you should stay, many visitors flock to Costa Teguise, one of the main resorts on the island. As a result, you'll be spoilt for choice when it comes to Costa Teguise hotels. You'll find luxuorious suites and great choices for a family friendly base.
Looking for a flight and hotel? Then check out our holidays in Lanzarote here.
Most popular hotels in Lanzarote
All Inclusive hotels in Lanzarote
Luxury hotels in Lanzarote
Family hotels in Lanzarote
THB Flora Aparthotel
THB Flora Aparthotel
Puerto del Carmen, Lanzarote
Costa Sal Apartments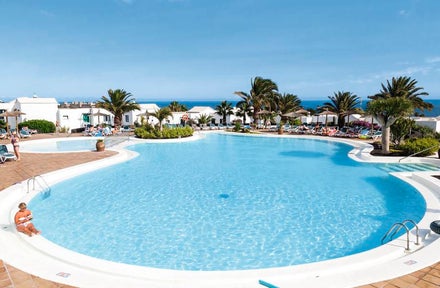 Costa Sal Apartments
Puerto del Carmen, Lanzarote