Top hotels in Tenerife
Finding a hotel in Tenerife that suits your needs is like lying on a sun lounger, sipping a cocktail. Laid back and simple. From 5-star resorts with a multitude of swimming pools and water slides to quieter spots in one of the less built up towns along Tenerife's many beaches, we're here to help you find just the right spot to call home.
The magic of Tenerife hotels lies in their purposefulness. There are entire resort towns dedicated to making sure that you have the very best holiday. The Canary Islands, considered by us to be the top destination - with a short haul flight time - for an all-inclusive holiday, are ideal if you're looking for a chilled out family holiday or a romantic week away. Some of the hotels in Tenerife have a party vibe, too, so although you might consider Majorca or Ibiza first for a hedonistic escape, Tenerife should never be ignored. It's at the top of its game.
You'll find hotels of all shapes and sizes, and because of Tenerife's year-round warmth rolling in from North Africa, last-minute deals on hotels can be snapped up at a moments notice. Come and find out why Tenerife is one of our favourite short-haul destinations.
Looking for a flight and hotel? Then check out our holidays in Tenerife here.
Most popular hotels in Tenerife
All Inclusive hotels in Tenerife
Luxury hotels in Tenerife
Family hotels in Tenerife
Neptuno Aparthotel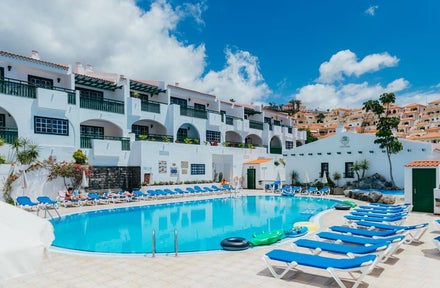 Neptuno Aparthotel
Costa Adeje, Tenerife
Laguna Park II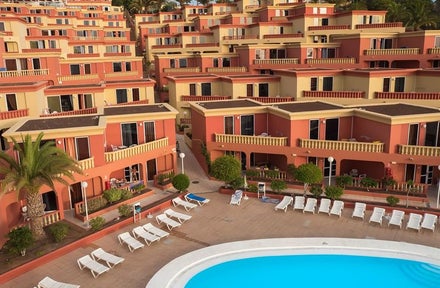 Laguna Park II
Costa Adeje, Tenerife
Flight time to Tenerife
The average flight time to Tenerife from the UK is 4 hours 30 minutes.
Top resorts in Tenerife
To list all of the resorts in Tenerife which are home to fantastic hotels would take us all day. Our absolute favourite resorts are:
Costa Adeje is great for families due to its lovely beaches and proximity to Siam Park, one of the most popular water parks/theme parks on the island. Playa de Las Américas is also home to many hotels. This resort town is on the livelier side of Tenerife, with many bars, restaurants and clubs which you can explore over your 7 nights. Finally, Costa del Silencio, a short distance east of Playa de las Americas, is a purpose-built tourist resort. Translating literally to 'Silent Coast', you know when you book you're in for a comfortable, affordable, and quite lovely sunny holiday.
When to visit Tenerife
Due to Tenerife's proximity to the west coast of Africa, the island enjoys sunshine all year round. The summers can be very hot and dry, with the autumn and spring months providing more cooler conditions. You'll often find the south of the island has warmer weather due to Mount Teide (a dormant volcano) blocking rain and wind from reaching the south of the island.
Average high and low temperatures for each month:
January: 19° / 14°
February: 20° / 13°
March: 21° / 14°
April: 22° / 14°
May: 23° / 15°
June: 25° / 17°
July: 28° / 19°
August: 29° / 20°
September: 28° / 20°
October: 26° / 19°
November: 23° / 17°
December: 20° / 15°