Top hotels in Rhodes
There are many hotels in Rhodes to accommodate for your needs. You could be looking for a cheap hotel that keeps it simple, or even a luxury resort to make your time even more enjoyable. Whatever it is that you're looking for, there is plenty of choice when it comes to hotels in Rhodes.
Rhodes is a great location to spend a holiday, due to the amount of history that the island holds. Aside from that, there is a great variety of beaches to sink your toes into. So, finding anything from an all inclusive hotel in Rhodes, to a self catering villa shouldn't be hard, especially if you're looking for a Rhodes hotel located near a beach!
Looking for a flight and hotel? Then check out our holidays in Rhodes here.
Most popular hotels in Rhodes
All Inclusive hotels in Rhodes
Family hotels in Rhodes
Matina Pefkos Aparthotel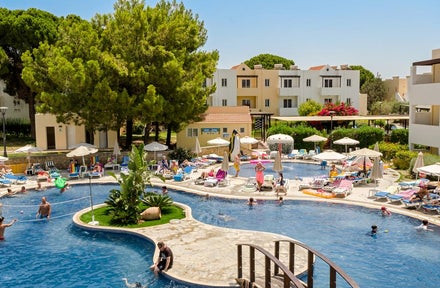 Matina Pefkos Aparthotel
Pefkos, Rhodes
Belair Beach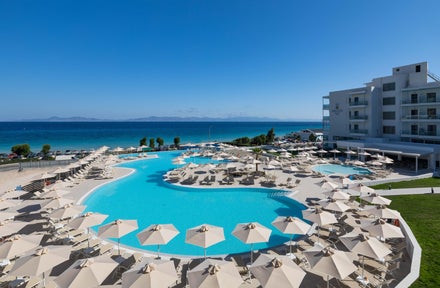 Belair Beach
Ixia, Rhodes
You'll find fabulous apartments, wonderful villas and luxury hotels in Rhodes that will welcome you with fine dining and exquisite facilities – and you'll find cheap holiday villas in Rhodes that will provide a comfortable base for families or groups of friends. You decide what suits you best.
Flight time to Rhodes
The average flight time to Rhodes is 4 hours from the UK.
Top Resorts in Rhodes
Faliraki is a very lively resort in Rhodes which attracts load of tourists, particularly due to its nightlife, as well as its stunning beaches. However, there is so much to do in Faliraki that it is a great place for families to visit too. With one of the largest waterparks in Europe, the kids are sure to have a great day out. You will also find fantastic all inclusive hotels in Faliraki, which would be great if you're looking to go all out for your Rhodes holiday.
If somewhere a bit more laid back appeals to you, Ixia would be the best resort. Ixia is a hub of some wonderful hotel where you can put your feet up and relax. So it makes for a great base when it comes to exploring the island of Rhodes.
Finally, when looking for hotels in Rhodes, why not stay in Pefkos? Situated on the Eastern coast of Rhodes, you will be spoilt for choice when it comes to beaches. This town overlooks the crystal waters of the Aegean Sea, where you can discover quiet beaches and bright sights of whitewashed buildings.
Things to do in Rhodes
Rhodes is a great location when it comes to a holiday full of variety. With stunning beaches, you can lay back and bask in the hot sun and take a dip in the clear Mediterranean waters. The nightlife here is also worth experiencing. Faliraki provides great beaches and is also known for its lively bars and clubs where you can spend your nights on holiday partying or relaxing with a cocktail or two.
The Greek Islands are full of history and culture, so you can't visit Rhodes without going back in time to the Ancient Greek period. Faliraki and Kameiros both have Greek ruins for visitors to experience. The city of Lindos also has great monuments to see, in the form of the Temple of Athena and its cliftop acropolis. You'll be sure to soak in all the history and the evident culture that Rhodes has to share with its visitors.
Great things to do in Rhodes include:
Colossus of Rhodes
Palace of the Grand Master of the Knights of Rhodes
Filerimos
Acropolis of Rhodes
Archeological Museum of Rhodes
Saint Paul's Bay